For any consumer-facing business, it often pays to move upmarket. Budget airlines are no exception. Today, easyJet flagged to investors that fiscal-year profits will come in at the higher end of its expected range, implying growth of at least 50%. A few weeks ago low-cost rival Ryanair issued the precisely opposite warning to its investors, saying that its profits would fall at the lower end of its guidance, roughly flat against the previous year.
In many travelers' minds, the two budget airlines—both among Europe's largest—are interchangeable. Their diverging financial fortunes suggest otherwise, and it mostly comes down to the way that they approach business travelers.
Both airlines say that around 20% of their passengers are flying for business, but easyJet has been placing more emphasis on routes between primary airports in big cities. In this way, it seeks to undercut legacy national carriers on traditional business routes instead of competing with Ryanair for traffic to leisure destinations and more niche routes. The woes of flag carriers like Alitalia and Air France give easyJet scope to swoop in on more profitable key business routes like Rome to Milan or Paris to Berlin. The airline can charge more on less price-sensitive travelers flying these routes than on traditional no-frills fares to far-flung Mediterranean beach resorts.
EasyJet has also introduced assigned seating, flexible fares and all-inclusive ticket-and-baggage packages. Those perks that business passengers expect, but are rarely offered by low-cost carriers, seem to be paying off. "I think easyJet has an awful lot to play for in terms of profitable market opportunities," says Donal O'Neill, an analyst at broker Goodbody in Dublin. Investors agree: They're more bullish on easyJet than Ryanair, according to the carriers' share prices so far this year: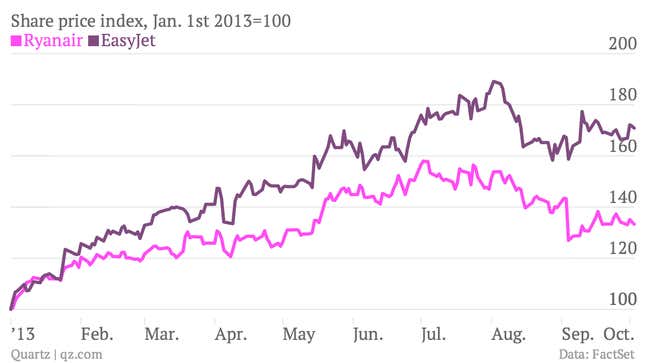 Although Ryanair remains committed to its reputation as the lowest-cost carrier in Europe, it has changed its tune somewhat since its profit warning. A deal to accept American Express cards (albeit with hefty fees) aims to attract more business travelers, as does a revamped website that's easier for travel agents to access. Chief executive Michael O'Leary said recently that the airline's "macho culture," in which inflexibility and aggressiveness in collecting a variety of service fees often lands the airline at the bottom of customer-service rankings, may need to go. As Ryanair faces saturation in a crowded European market, "an image that is a little less harsh might increase brand loyalty," says O'Neill of Goodbody. Southwest Airlines is a good model of a low-cost carrier that still manages to coddle its customers, he says.
Ryanair may be dabbling in higher-end flyers, but it hasn't lost its cost-cutting zeal. Although it already carries 20 million more passengers than easyJet per year, it's considering removing bathrooms to cram even more seats into its planes.