Today, the Canadian government released a long list of US products worth C$16.6 billion ($12.6 billion) that will be subject to new import taxes.
The taxes are a direct response to Donald Trump's steel and aluminum tariffs imposed in May, and will likely directly impact jobs and companies across the US. In 2017, 36 US states counted Canada as their largest export market.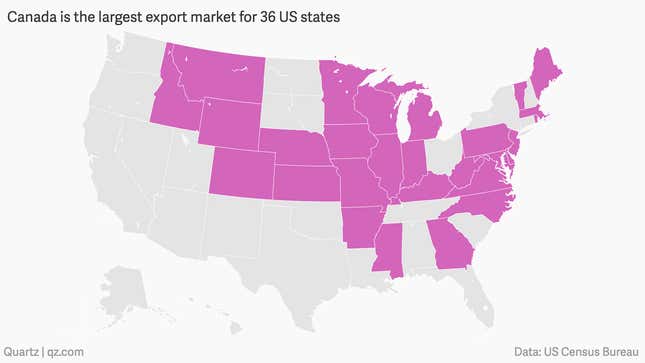 Dozens of steel products will be hit with 25% taxes, including forged steel, and several flat-rolled products (which are cut up to manufacture metal goods). Dozens more aluminum and consumer products will be taxed at 10%, in a move that will hit US companies from beauty product suppliers to boat manufacturers to dairy farms. The list includes:
coffee, roasted (not decaf)
toilet paper
strawberry jam
mayonaise
ketchup
liquorice
prepared meats, bovine
cucumbers and gherkins
whiskies
hair lacquers
manicure and pedicure preparations
organic face washes
automatic dishwasher detergent
playing cards
ball point pens
inflatable boats
Overall, Canada is the US's second-largest trading partner after China, the largest market for US agriculture, and the US's most important security partner, as Quartz wrote earlier.
Canadian officials said they had no choice but to react to Trump's tariffs. "It is with regret that we take these countermeasures, but the U.S. tariffs leave Canada no choice but to defend our industries, our workers and our communities," said foreign minister Chrystia Freeland.