As Donald Trump joins a hostile G7 meeting in Quebec City today, an old friendship is on the line.
Relations between the US and other G7 nations have waxed and waned, but since WWII, Americans and Canadians have slept soundly under the protection of a friendly US-Canadian bond that spans 5,500 miles of border, massive trade ties, and deeply intertwined militaries. When Trump insisted on taxing Canadian steel and aluminum last month, officials in Canada were taken aback. Even more astounding was Trump's justification of the tariffs as a matter of national security, which Canada's defense minister Harjit Sajjan described as "literally absurd."
Canada stands between the US and any military threats approaching from the north—as in airborne attacks from Russia (during the Cold War), or North Korea. The US and Canada face risks together, intermingling military defenses, collaborating on intelligence, and even sharing a secret mountain lair in NORAD—the only major military operation in the world that reports to two countries.
"These tariffs are an affront to the long standing security partnership between Canada and the United States," said Canadian prime minister Justin Trudeau. In particular, he said, the shift insulted thousands of Canadians who have "died alongside their American bothers-in-arms, comrades-in-arms."
Can Canada and US make it through this? Some fear that the tariffs could affect this vital military allegiance. "If you feel that your closest ally is not your friend, and is taking punitive action against you, you're going to rethink your security relationship as well," said Kenneth Holland, the former president for the Association for Canadian Studies in the US.
The largest export market for 36 US states
To understand the dangers to the security relationship between the two countries, it is important to understand their economic relationship. Overall, Canada is the US's second-largest trading partner after China, and the largest market for US agriculture. While US trade with China dominates headlines, Canada is a more important partner for most US states: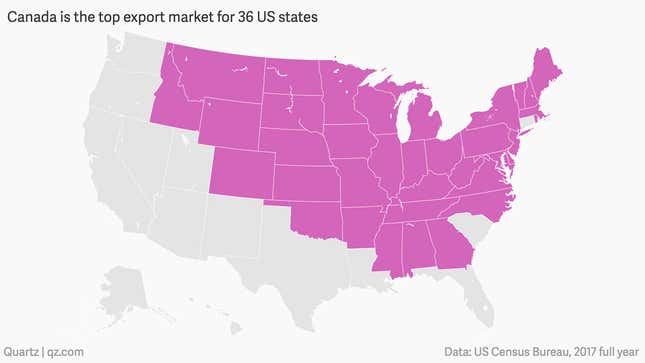 Major industries in both countries, and particularly the auto industry, are so integrated that executives are now scrambling to reexamine their supply chains to suss out how tariffs on products crossing the US-Canada border might impact them. US auto companies have "built seamless supply chains across Canada and the US," said Nick Anstett, a director at Albright Stonebridge Group, a DC consultancy. From Windsor, Ontario to Detroit, Michigan is "really, for the industry, one common belt of development," he said.
The Trump steel tariffs are seen by many trade experts as an attempt to get leverage in NAFTA talks. Canada, Mexico, and the US are in the midst of protracted renegotiation of the long-standing trade pact, with Canada balking at the US's insistence on a "sunset clause" that dissolves the agreement after five years, and at an opening up of Canada's protected dairy industry.
This may not be the right tactic. "Negotiating with a gun to someone's head doesn't usually work, especially when it is in public," says Carlos Gutierrez, former secretary of commerce under George W. Bush.
US and Canadian militaries share a secret mountain lair
The threat of nuclear annihilation from Communist Russia helped forge the US-Canada military relationship.
Since the WWII ended, the US and Canada have melded troops, equipment, and military strategies, creating a mammoth invisible shield to protect both countries against the threat of nuclear destruction. During the Cold War, the two countries created a string of radar outposts along Canada's frozen northern border. They also built the unprecedented North American Aerospace Defense Command, or NORAD, which celebrated its 60th anniversary weeks before Trump's tariffs.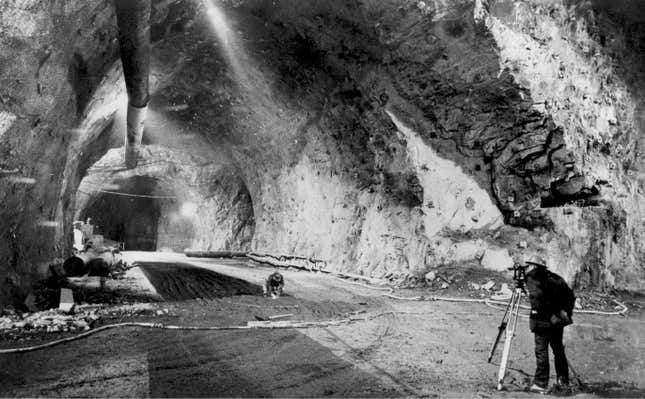 NORAD is the only major military operation in the world that reports to two countries, with a chain of command that alternates between US and Canadian officials. Since the 1960s, NORAD has been headquartered inside a mountain in Colorado, where 15 buildings full of monitoring and command equipment sit on springs, designed to help withstand a nuclear attack.
Just a week before the trade tariffs were announced, Canada's military said it had beefed up its northern radar capabilities, a response to Russia's increased patrols of the North American arctic.
Generations of US and Canadian troops have coordinated operations overseas, whether fighting world wars or in regional hotspots. "From the beaches of Normandy to the mountains of Afghanistan we have fought and died together," Trudeau said on May 31. In 2015, officials from both sides discussed fully integrating their militaries—permanently.
Weeks before the metals tariffs were announced, US and Canadian troops met for "Exercise Maple Resolve," North America's "largest allied exercise" according to the US Department of Defense.
"It's important for us to operate at the multinational level because the United States will most likely never go to war alone," Army Col. Rodney J. Fischer said as Maple Reserve wrapped up. "We rely on our coalition partners and working out any issues now makes us that more formidable in the future."
All this shared military history makes the Trump administration's actions unfathomable, Canadians say. "We're approaching a century's worth of extraordinary defense ties," said David Perry, a senior analyst at the Canadian Global Affairs Institute. The fact that the US president accused Canada of being a security risk in the same week that he said nice things about North Korea's dictator is "pretty hard to rectify," he said.
"The idea that we're some national security threat is just preposterous," said Perry.
Asked about possible security repercussions, a US Pentagon spokesman referred questions to the White House, where a National Security Council spokesman argued that the tariffs will have "zero impact." "I don't think it in any way strains our relationship," he said, because the two countries are "so closely tied together." Trump himself does not appear concerned by security repercussions—in the past 24 hours, he has mocked Trudeau for being "so indignant," threatened further tariffs, and suggested Russia's president should be invited to the G7 instead.
5,500 miles of common border control and law enforcement
The Trump administration has focused on US's southern border, but its 5,500 mile border with Canada has become a hotspot for opioid smuggling, and a focus for potential terrorism threats. Together the US and Canada operate integrated law enforcement and customs teams in 15 different regions that patrol the land and the seas, sometimes sharing the same vessels. When they're sailing in Canadian waters, Canadian officials are in charge, and in US waters US officials take over.
They monitor the 400,000 people and $2 billion in goods and services  that cross the Canada U.S. border every day.
"A threat to one country is a threat to the other," said a Canadian embassy spokeswoman in Washington. "On any given day, Canadian and American law enforcement teams are sharing intel in the land, air, and marine environments to stop criminal activity."
Canadian airports handle about 80%  of US commercial airlines' overseas "preclearance," which includes nearly 16 million US-bound passengers in 2017. US Customs and Border Protection units are embedded directly in six Canadian airports.
Protecting territory in the Arctic
The North Pole and its surrounding area are expected to be a major point of global friction between Russia and western democracies, as melting sea ice opens up a new shipping route and access to untapped oil and natural gas reserves. Here the US, which has just a narrow sliver of territory above Alaska, is depending on Canada to collect intelligence about Russia's movements there, and push back against Russia's expansionist claims.
The 9.9 million square mile (16,000 sq. kilometers) Arctic Circle is uneasily shared by six nations, with Russia holding the largest share, as this University of Durham map shows: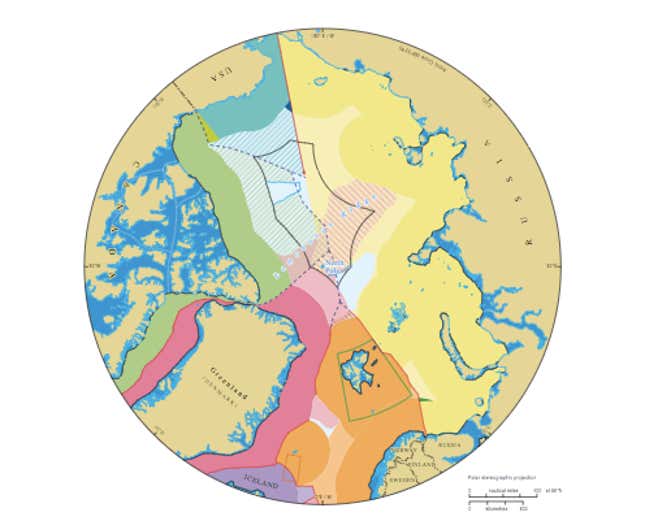 The US has pushed for the Arctic to be a demilitarized area, with shared trade routes and a focus on commerce. But Russia "does not see it that way," Holland said. "They've been very aggressive in deploying their Navy and Air Force in the Arctic."
As the ice melts, who has claim to what is going to be a major issue, said Anstett. The US benefits from the "ability of Canada's Navy to be able to patrol the Arctic Sea, which is Canada's sovereign region," he said.
Since he came to office, Trump has been asking the US's allies to spend more on defense. Last year, Trudeau's government said it would increase its military spending, in what was widely seen as a move to appease the White House. The Canadian Navy also plans to bulk up its fleet in the Pacific, in order to coordinate with the US military's plans to contain China in the South China Sea. After the trade tariffs, "that's in jeopardy," Holland said. "Why should Canada spend all that money, and stick their neck out? "