Vladimir Putin made a trip to the Arctic this week to participate in the International Arctic Forum held March 29-30 in Arkhangelsk, Russia.
Photos released by the Kremlin to the AP show Putin inspecting an ice cave on Alexandra Land, an island of the Franz Josef Land Archipelago, where Russia has recently upgraded its military base with a new airfield and accommodations for 150 people.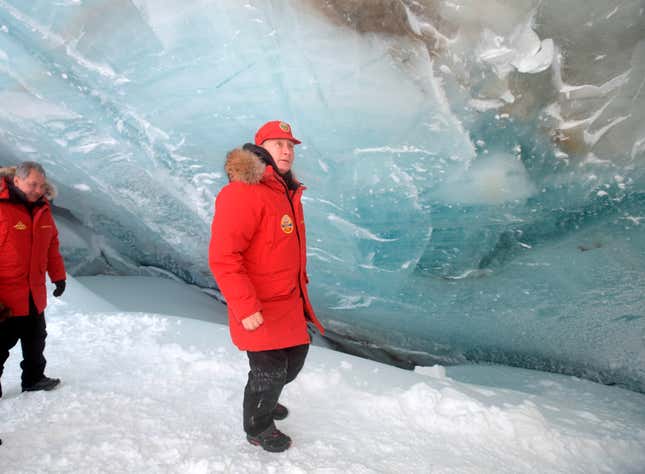 Melting sea ice in the Arctic promises opportunities to open up a new shipping route and access to untapped oil and natural gas reserves—a US-government geological survey from 2009 estimate that the Arctic holds 13% of the world's undiscovered oil reserves and 30% of gas reserves, and most of the gas is concentrated in Russian territories.
Speaking at the Arctic summit, Putin said Russia is open to a "broad partnership" with other countries to develop the oil-rich region, but he also says the Russian military has to "implement their plans to protect national interests."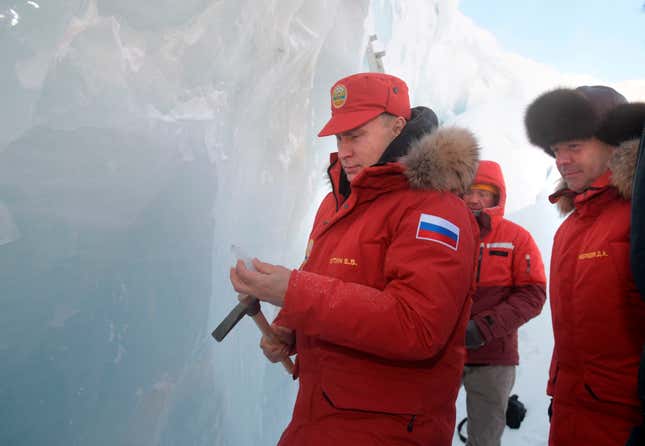 Governments and energy companies are eager to lay claim to resources in the region, but Russia has an especially high stake: recent reports say oil fields in Siberia, the heartland of the Russian oil industry, are depleting quickly due to low oil prices.
Russia seems determined to get ahead in the race for the Arctic: It created a military command dedicated to the Arctic in 2014, staged a massive military drill in March 2015, and in August the same year, submitted a formal claim to the United Nations to seek recognition of its exclusive economic rights over vast sea territories in the Arctic. Other countries have followed Russia's show of force: In 2016, the US and Norway both held military drills in their north-most territories.
The Russian government continues to release pictures aimed at proving its Arctic power, including images of its Arctic military drills, its Arctic specialty troops riding reindeer and dog sleds, and now pictures of the president inspecting territories himself. While Putin visited Alexandra Land on March 30, a Russian ice-breaking liquefied-gas tanker docked at a newly built Arctic port in Sabetta, in preparation of testing out a new Arctic shipping route.
Russian state media Sputnik reported Putin also visited the Russian Arctic Museum on the Alexandra Land, and spent part of his trip inspecting the progress of Russian efforts to clean up garbage accumulated on and around the Franz Josef Land archipelago during the Soviet era.