Remember Sizzler, the 90s-era global restaurant chain based in the US that made a name for itself with endless salad bars and cheap chicken dinners? The chain, which now has restaurants spanning across Australia, China, Indonesia, Japan, Puerto Rico and Thailand, is banking on just the thing to refresh your memory: an impossibly cheap dinner deal you'd be foolish to forgo.
Sizzler has been struggling with a series of creative marketing plays since it filed for bankruptcy back in 2006. After closing 130 company-owned stores and moving towards a franchised model, the business looked abroad, expanding into seven international markets, including China, Japan and Australia. But international growth was slow, and the company split its international and domestic businesses in two in 2011, when management-led group Sizzler USA bought Sizzler's rebounding US business from Australian holding company Pacific Equity Partners.
Since then, Sizzler USA has busied itself with all things American, including newfangled menu offerings and flashy restaurant redesigns to boost sales. Since the Great Recession, demand for healthier, fresher options and low prices has eaten into profit margins for casual restaurant chains in the US like Sizzler. Competitors like Olive Garden and Red Lobster have tried to woo price-conscious consumers with permanently lower prices, with limited success. Sizzler, however, is taking a different approach: It's hoping to hook new customers with ultra-cheap dinners reminiscent of yonder year—while taking a loss—to show off its restaurant redesigns and new menus. Once the deals expire, it will hike back up the price.
And thus, until November 10, anyone who walks into Sizzler can sit down to a steak and chicken dinner for a mere $7.99 (below today's regular price of $12.99 and the chain's 1990s price nearer to $8.99). The price point is in fact so low that Sizzler stands to lose money on each purchase; it only covers the cost of the food.
Here's a video of a similar Sizzler deal for steak and lobster that began in the late 1980s and ran through the early 1990s:
And here's a print advertisement for the latest price cut: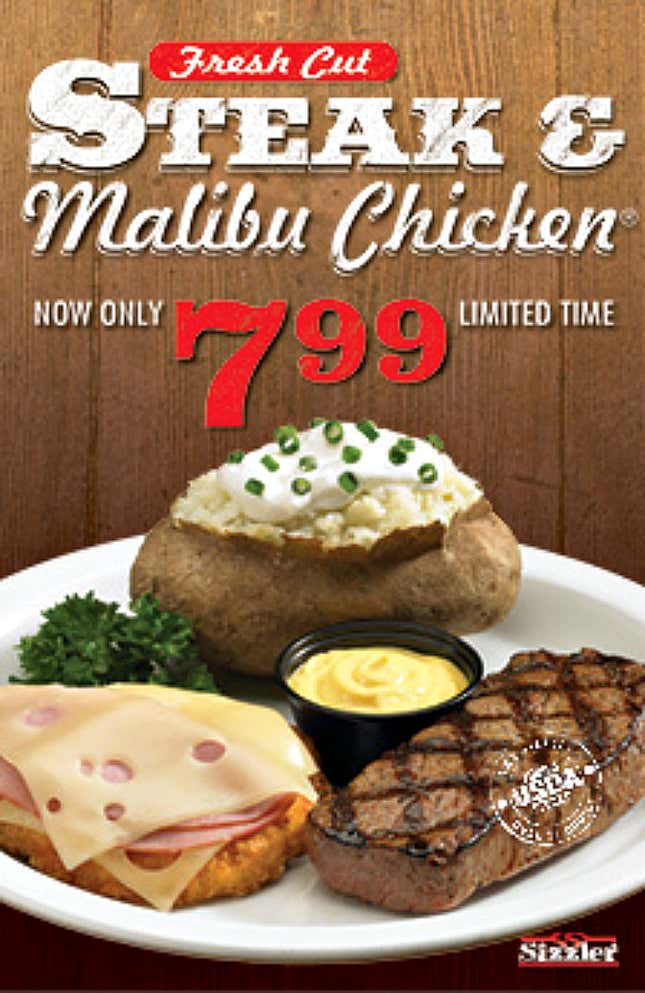 "It's a great opportunity for us to get people to come back in again, give us another try. We've been around a long time, and I think people sometimes need a little reminder to take a look at the convenient store in their local area," CEO Kerry Kramp told Bloomberg in an interview. "It's a unique way of advertising."
Even before the cheap offer, the strategy seemed to be paying off. The chain's remodeled stores are averaging sales up to 15% above outdated ones. But the question remains: Where will customers go when the 90s nostalgia wears off?