In late June 2008, urology doctor Zhang Wei treated four babies within 10 days—one just 10-months old—for kidney stones. It's a condition that rarely occurs in children and can cause unbearable pain when it does. "This made me tremble as a doctor, I felt there might be a common reason behind these cases," Zhang told a Chinese newspaper (link in Chinese) later.
Zhang was among the first people in China to get an inkling of a growing national disaster that would take the lives of six infants and sicken more than 300,000 babies.
On July 16 that year, as Beijing was gearing up to hold the Summer Olympics, Zhang flagged the sudden increase of infant cases to his hospital's dean, who then reported them to the local health bureau in the northwestern province of Gansu, which in turn took the matter to the national health bureau. But no one could figure out what happened. All the milk powder samples passed qualification tests. It was only two months later, when China declared a national food-safety emergency (link in Chinese), that Zhang found out the culprit was a chemical compound called melamine, used in plastic and fertilizer production, that had made its way into baby formula.
The incident shattered the confidence of people in Chinese-made infant formula—and in the entire local food supply. Ten years later, the deep distrust remains, in spite of the government making concerted efforts over the years to make infant formula among the most heavily regulated (link in Chinese) foods in China.
The unforgettable Sanlu tragedy
A total of 22 companies were involved in the tainted-milk scandal, including state-owned dairy company Yili, a supplier to the Beijing Olympics, according to a national probe by Chinese officials that looked into 109 companies in September 2008. At the top of the list was Sanlu Group, with 11 batches of milk powder found to have melamine.
Sanlu, which began as a state-owned company based in northern Hebei province in 1996, had formed a joint venture in 2005 with New Zealand dairy company Fonterra, which was looking to reach Chinese consumers. Sanlu had a national market share of nearly 20% in 2008 (link in Chinese) in terms of total milk powder sales, including infant formula.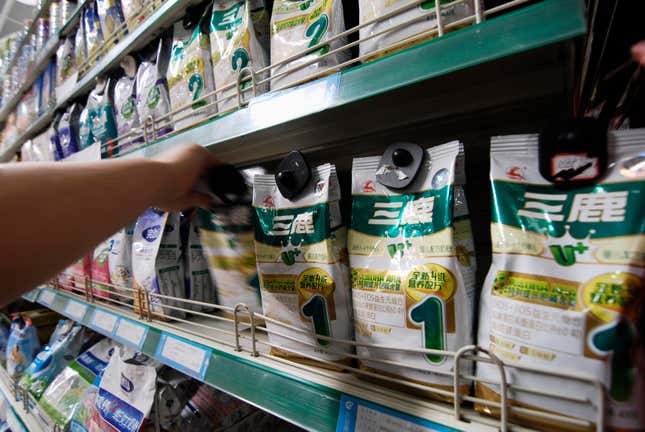 Sanlu began receiving complaints from parents about their babies developing kidney stones (link in Chinese) after consuming Sanlu's products in December 2007 (paywall), but only formed a team to investigate product qualities in May 2008. At that time, all the samples passed qualification tests, according to (link in Chinese) the lawyer for Tian Wenhua, then chairwoman of Sanlu. But the national standards didn't require testing for melamine—no one had anticipated that milk producers would doctor their supplies with the chemical. Sanlu only began testing for melamine in late July, after realizing that pet food laced with the stuff had killed pets in the US earlier.
In August, Sanlu finally identified the presence of the compound in its formula, and traced it to "protein powder" supplied by local farmers, who were adding melamine to their milk to boost protein levels and pass nutritional testing. The level of melamine in the powder was found to be as high as 2,560 mg/kg—the tolerable daily intake for the chemical compound is 0.63 mg/kg of body weight, according to the level set by America's Food and Drug Administration.
The scandal still didn't break wide open—Sanlu disclosed its findings only to local government officials and pledged to control the media to avoid negative publicity for China around the Olympics. Journalists who had started to hear about sick babies felt unable to cover it given strict reporting advisories. Instead, Sanlu was quietly recalling products. Then its partner Fonterra, together with the New Zealand government, took the matter to China's central government, finally drawing national and global attention to a problem parents had been pleading with authorities to make public for months.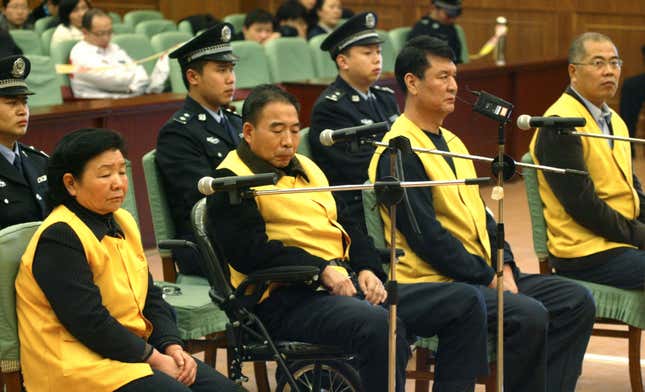 More than 100 lawyers volunteered to represent families in claims against Sanlu—but the government put pressure on them not to take cases, and courts also declined to hear individual suits. Instead, the government conducted a series of prosecutions.
Sanlu's chairwoman Tian, a Communist Party member, was given a life sentence for failing to stop stop the production and sale of the tainted milk even after Sanlu learned it was dangerous, while several other executives received prison sentences of between five and 15 years. A dairy farmer and a local supplier who had distributed tainted powder to Sanlu were executed in late 2009, the same year Sanlu went bankrupt.
The terrifying aftermath
The pain has been long-lasting for many suffering families, who didn't fully understand the effects of melamine at that time. Some have grasped it over the years, as their children remain constantly ill.
Ren Chen is a 13-year-old boy living in southern Hunan province. A hospital found his kidneys riddled with stones when he was three. He grew up drinking milk (link in Chinese) from Sanlu, Yili, and another domestic brand, Nanshan, according to an interview with news portal Sohu. Having gone through kidney dialysis a decade ago, his kidney function deteriorated further in 2013—he's had two surgeries since—and now his routine includes three sessions of dialysis a week. Occasionally, he asks his mother, "Why did you bring me into the world to suffer?"
In the wake of the scandal, the 22 companies who were found to have sold tainted products set up a fund to compensate families for deaths and illness. But the amounts were small for families whose children needed a lifetime of care. Ren was among those (link in Chinese) who couldn't get compensation from the insurer overseeing the fund,  as no hospital has firmly concluded that consuming melamine caused Ren's illness. Over the years, parents who have fought for their children to get more compensation were arrested and detained, or are still strictly monitored.
A constant craving for foreign milk
The Sanlu scandal cast a light on the problems plaguing China's booming economy, as companies ramped up food production for the domestic market and for export, often with support from the state, while one-party rule made transparent regulation and whistle-blowing difficult.
John Yasuda, author of On Feeding the Masses: An Anatomy of Regulatory Failure in China, a 2017 book on food safety in China, said the high demand for milk in a more prosperous China contributed in part to the tragedy. "The government was sort of trying to encourage milk consumption," Yasuda told Quartz. But most of the large milk conglomerates didn't have their own pasture lands, so more and more small farmers were roped in as suppliers to large firms, and asked to meet demanding production schedules, he said.
In the process, they lost track of safety.
Soon after the milk powder scandal, China passed a new law on additives, and beefed up government coordination on food safety, including by restructuring its agency that administers food and drug safety. China also rolled out a series of new rules (link in Chinese) for infant formula specifically. The State Council said in 2013 that the country would build up a digital tracking system to display information about the entire formula supply chain, a plan that has only been adopted by (link in Chinese) Guangdong province so far. In January, China began requiring manufacturers to register their formula products, and limiting the number of such products a company can have.
Yet the effect has been limited. A recent survey from consulting firm McKinsey & Co. found that over half of the 10,000 people surveyed still prefer a foreign brand for baby formula. Parents continue to stock up on foreign milk products in neighboring Hong Kong, at times causing a shortage of milk powder in the area—forcing the city government to limit the amount of milk powder mainland Chinese can bring back from Hong Kong.
A trust dark hole
The fear is so deep-rooted that it goes beyond milk powder—food rumors about things such as plastic seaweed and seedless grapes cultivated with birth control medicines frequently send consumers into a tailspin.
There are at least three reasons for the failure to restore people's confidence in domestic food, notes Huang Yanzhong, a senior fellow for global health at the Council for Foreign Relations in New York.
One is the excessive use of pesticides and fertilizers in the 1980s (pdf, p.3), which has contaminated farmland, and could be transferred to cows that eat that grass. The government has only just started to tackle the problem, Huang said in an interview with Quartz. China also has a top-down regulatory method, which makes it hard for the public to engage with the process, particularly given the lack of press freedom, he says. There is also a general perception of a "moral decline" in China, where people try to make money by whatever means it takes, Huang adds, noting that sometimes even farmers themselves don't eat what they grow (link in Chinese) for the market.
"It's very hard to have a strong sense of optimism," says Huang.
Not that foreign milk is immune from safety issues—earlier this year, a French milk-powder producer recalled 7,000 tons of infant formula after babies fell ill consuming products from the firm contaminated with salmonella. Yet parents still don't trust domestic brands as much as they do foreign ones. Even though "food in China is generally safe, the risk of a food safety incident is still high," says Yasuda.
For parents, the lesson has been that it's better to be extra cautious rather than sorry.
"I feel like foreign baby powder is better," says 25-year-old Zeng Yingpei, who lives in the southern city of Foshan and buys German baby formula for her two-year-old. Citing the Sanlu scandal, she quoted a popular refrain: "It only takes one mouse dropping to ruin the whole pot of porridge."