In August 2015, deadly explosions ripped apart warehouses storing dangerous chemicals in the port city of Tianjin, China, killing over 160 people and forming a crater visible from space. After revelations that the company involved had been illegally operating for years thanks to its owners' strong political ties, the government vowed to improve the nation's lax safety standards and crack down on corruption. Chinese president Xi Jinping said authorities should learn the lessons paid for in blood.
But a deadly chemical blast last night has again called into question China's safety standards. Killing 19 people and injuring 12, the explosion took place at a chemical plant a few hours outside Chengdu, the capital of southwestern Sichuan province. The explosion reduced a trio of three-story buildings to their steel frames, local media reported, and shattered windows in nearby buildings. Beijing News, citing the local fire department, reported that methanol caused the blast (link in Chinese).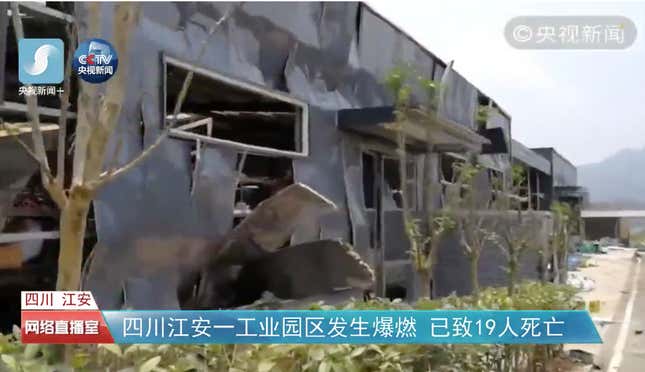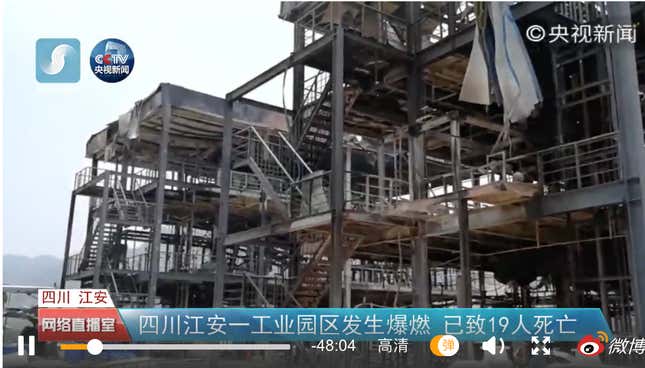 The company involved, Yibin Hengda Technology, makes chemicals for the food and pharmaceutical industries. Founded in 2015, last year it received approval from Sichuan's environmental protection department to build a $7.5 million chemical production plant, reports Southern Metropolis Daily (link in Chinese). The plant is not fully completed but production has begun.
Quartz was unable to reach the company or local authorities overseeing business registrations. We'll update this post as more information comes in.
On Chinese social media, commenters expressed skepticism about industrial safety standards improving in China. On Weibo, one user wrote (link in Chinese) that "every company says it puts safety first every year" but that accidents like Tianjin "never really raise enough attention" among businesses and the authorities meant to regulate them.