As the heat builds in the summer months, department stores have for years tried to woo potential customers in with air conditioning and decent sales. In the US, there are Memorial Day sales, "Christmas in July" sales, clearance sales, Labor Day sales, and countless others, as retailers try to boost their bottom lines during the traditionally slow shopping period.
But no brand had ever had the dominance, or perhaps the wherewithal, to come up with its own shopping holiday—until Amazon.
Four years ago, Amazon launched Prime Day, a sale for subscribers to its Prime free-delivery service. The deals offered each year have gotten grander and wider in scope. This year, the company says it plans to discount more than 1 million products for Prime Day, which actually spans two days, over July 16 and 17. The sale encompasses much of Amazon's retail business, from its own Echo and Fire devices to Twitch, the live-streaming service it purchased in 2014, and Whole Foods, which it bought in 2017, in addition to thousands of the products it sells on its main website.
While Amazon's outsized answer to the slow summer season isn't particularly surprising in and of itself, the way its competitors have responded may be.
Just about every other big-box retailer and department store in the US is currently running short-lived sales over the next two days, some exactly mirroring the 36-hour period that Prime Day will run. While none obviously mention Amazon or its sale by name, the counter-promotions have legitimized the pseudo-holiday that Amazon has managed to create in a few short years.
Here's a quick snapshot of what Amazon's competitors are up to, aiming to stem, with online offers, the bleeding in store sales that just about every major brick-and-mortar retailer is facing these days:
Walmart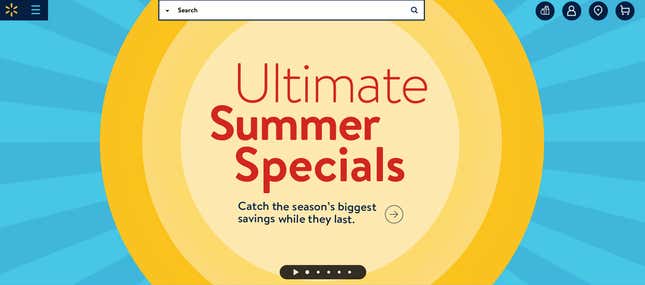 The retail giant has many of the same sorts of things on sale as Amazon for its "Ultimate Summer Specials" event, including laptops, streaming devices, toys, clothing, and home goods. It's unclear how long Walmart will extend the promotion; the company simply instructs customers to "catch the season's biggest savings while they last."
Target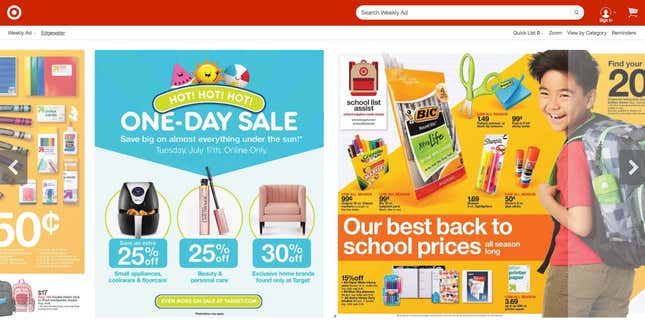 Target is currently giving a "sneak-peek" on a one-day sale it's running on July 17. Details are thin but Target will be offering 25% off small appliances and beauty products, and 30% off its own house brands, a strategy Amazon is also testing out on Prime Day this year.
Best Buy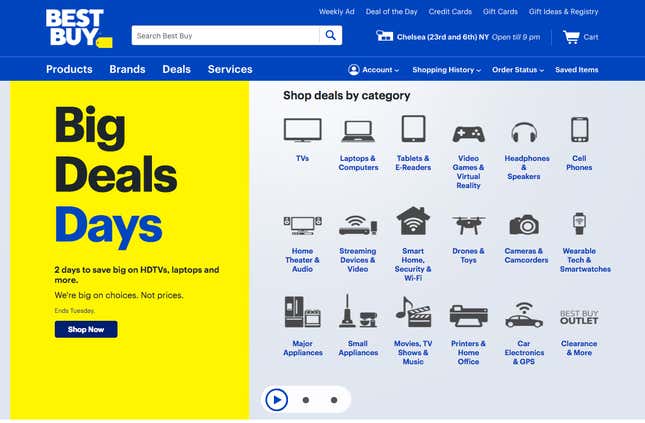 The electronics retailer is advertising "Big Deals Days," a two-day sale that coincidentally ends at 11:59 pm US Central time tomorrow. It's discounting most of the product categories it sells, including discounts on TVs, computers, cameras, and drones.
Macy's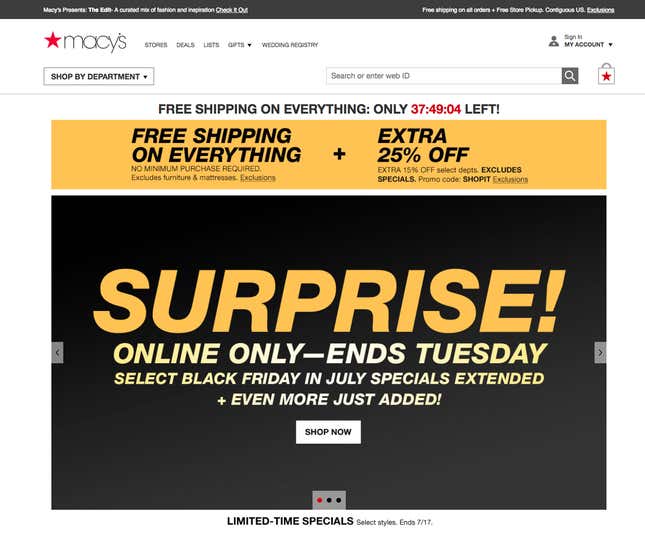 The ubiquitous US department-store chain is having a "Black Friday in July" sale on clothing, home electronics, and accessories that also ends tomorrow, as it warns customers with a bold red countdown clock at the top of its website. The online-only sale also includes free shipping, one of Amazon's Prime's main selling points.
Lowe's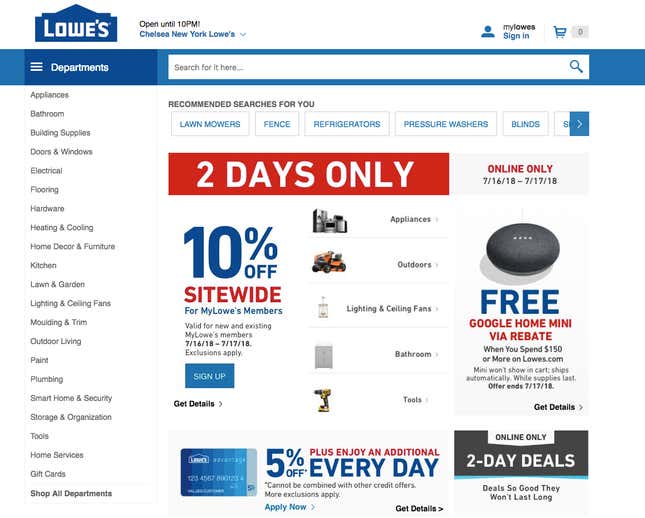 The home-improvement chain is offering 10% off its entire site for members of its loyalty program, along with other two-day deals, including a free Google Home Mini smart speaker when you spend $150.
Sears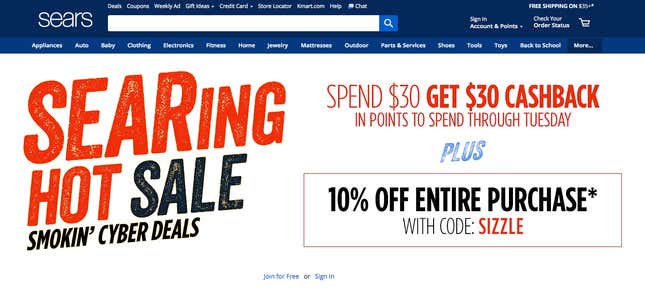 The beleaguered chain is running a terrible-pun-themed online sale that ends on Tuesday, as well as additional "doorbuster" deals to entice people to actually go into a Sears for the first time in, presumably, years.
Everyone else
Just about every US retailer seems to be jumping on the "let's have a flash sale right now for no specific reason" bandwagon. Department store Kohl's is having a flash sale that ends tomorrow, giving shoppers $10 off when they spend $50; wholesale-shopping club Costco is currently offering discounts on many appliances, furniture, and electronics "while supplies last;" and pharmacy chain CVS is offering 25% off many items on its website. Dick's Sporting Goods, meanwhile, is offering $20 off $100 orders through Tuesday; Office Depot is running a 48-hour sale with 60% off select products; and video-game retailer GameStop is offering free shipping for pre-owned games through Tuesday.
Others, however, have decided to remain above the fray of Amazon's made-up holiday. Department store chain Bloomingdale's isn't running a sale, but has a banner reminding customers that its loyalty-card shoppers always get free shipping; Home Depot doesn't have anything comparable to its competitor Lowe's; and you wouldn't know there was anything special today happening over at Apple.com.