Amazon's fourth run of Prime Day, its self-branded shopping holiday, kicks off next week on July 16. There will be a lot of deals, which you can peruse through many exhaustive lists compiled by various media outlets.
These deals are not limited to Amazon; they also include special offers for shoppers at Whole Foods, the upscale grocery chain that Amazon bought for $13.7 billion last year.
Prime members who spend at least $10 at Whole Foods between July 11 and July 17 will get a $10 account credit to spend on Amazon.com during Prime Day. Shoppers with Amazon's Prime Rewards Visa Signature credit card will also get 10% back on up to $400 in Whole Foods purchases from July 14 to July 17.
These are good deals, no doubt. But every day is Prime Day at Whole Foods now, if you're a Prime member.
In recent weeks, Amazon has bathed Whole Foods locations in Prime branding, hanging sky-blue Prime banners on storefronts, decorating the ends of grocery aisles with signs for sales exclusive to Prime members, and even getting Whole Foods employees to wear blue Prime aprons. You could be forgiven for walking into your local Whole Foods and thinking it was an entirely different place.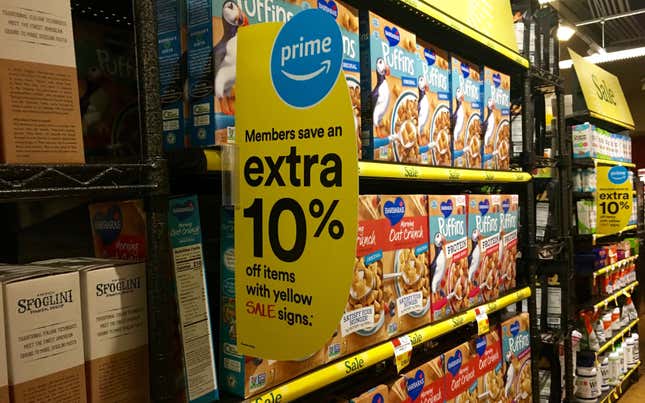 Whole Foods also now routinely offers Prime member deals—extra deep discounts on prices for shoppers who download the Whole Foods app and sign in with their Prime account. Users of the Prime-branded credit card routinely get 5% back on purchases at Whole Foods, the same as for purchases on Amazon.com.
These Prime-member deals have drawn a line between between Prime members and other shoppers, who increasingly find themselves excluded from Whole Foods sales. At a Whole Foods in the Chelsea neighborhood of Manhattan, for example, Honest Lemonade was recently priced at two for $3 for Prime members and $2.99 each for everyone else. A week earlier, those same lemonades had been on sale at $1.99 for all customers. Amazon isn't kidding when it tells Prime members, "A special deal just for you. Yes, you."
Prime members have long been eligible for certain deals and benefits on Amazon.com that weren't afforded to non-members, and Prime benefits grew up alongside the e-commerce site. But at Whole Foods, this process has happened differently: In creating benefits for Prime shoppers, Amazon has excluded regular customers from the steepest price cuts as well as once-routine sales. Every day is Prime Day at Whole Foods if you have Amazon Prime, and every day is a comparatively worse deal if you don't.