The two-bedroom condo that Donna Oakley arrived to in Winston-Salem, North Carolina, in late June didn't look much like the five-star property she'd booked on Airbnb.
The windows in the living room were streaked and milky, hardly the clean, sunny room that was advertised. One window had a large cobweb in the corner and dead bugs inside the sill. There was mold in the kitchen cabinets and around the floorboards, the oven door was coated in grease, and the vents were caked with dirt. In the bathroom, the toilet bowl had dark orange stains and the sink faucet handle was broken.
"That place was nasty," Oakley, 59, said.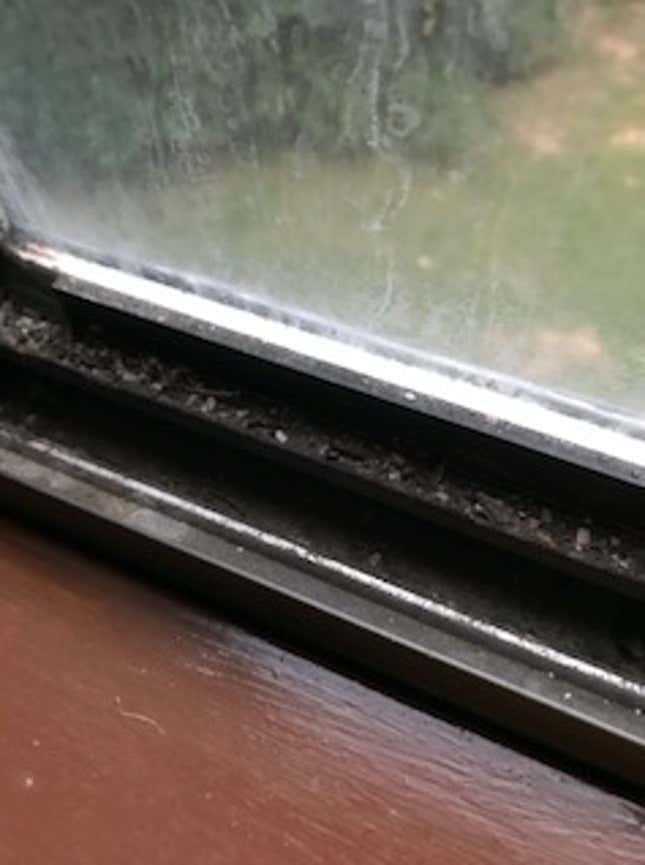 Oakley, who is retired and lives in Fort Myers, Florida, had booked the condo a few months earlier for a four-week visit to family in Winston-Salem. She had stayed in Airbnbs many times—using the home-rental company to travel to London, Rome, Paris, Naples, Venice, and Puerto Rico, among other destinations—and always had good experiences. (Oakley is the mother of a former Quartz employee.)
After three nights in the Winston-Salem condo, Oakley and her husband found a new place to stay. They had also had issues with the neighbors, who parked their car in the Airbnb's designated spot, and who Oakley said threatened her after she asked them to move their vehicle. Oakley contacted Airbnb, which refunded her the remaining four days in the the first week, the only portion of the 28-day booking she had paid for at that point. Then she wrote a review.
"We felt it was necessary to move our car somewhere else… and this was not a safe environment due to the threat of violence," she wrote in a review that detailed the confrontation with the condo's neighbors. "The condo is in need of a significant cleaning. It appears to have been neglected."
Airbnb hosts and guests have 14 days after checkout to write a review, and the company doesn't post them online until both parties have completed their evaluations, or the 14 days have expired. Oakley submitted two paragraphs totaling 311 words. The review that eventually appeared under her name was just one sentence: "Please be aware that this property is unclean and the neighbors are rude and threatened violence in reference to a parking space (which is extremely limited)."
Airbnb built a $31 billion travel and lodging company by convincing millions of travelers that staying in a stranger's apartment was as good or better than booking a room in a hotel. The company's five-star review system, which lets guests review hosts and properties and hosts review their guests, is one of its most important tools in fostering the trust needed to make a home-sharing community work.
"You have to remember that before Airbnb existed, this was a really, really rare transaction in the economy—and now it's become really common," said Andrey Fradkin, an assistant professor at Boston University Questrom School of Business and former data scientist at Airbnb. "The introduction of the reputation system is part of the key reasons for why this marketplace has been able to succeed."
Of course, the system is only as good as its reviews, and Oakley and four other Airbnb users who spoke to Quartz allege that Airbnb tampered with theirs. These Airbnb guests say the negative reviews they submitted to the company after a bad experience were either edited or quietly removed from the site without their knowledge or permission.
In an emailed statement, Airbnb spokesperson Nick Papas said authentic reviews are "critical to building trust" between the company's hosts and guests. He pointed to Airbnb's content policy, which outlines why a review might be taken down, such as for illegal, profane, or discriminatory material. "The goal of this policy is to ensure that any fraudulent or misleading content is not allowed on the site," he said. "Just as critical, this policy also exists to protect the integrity of authentic feedback from our community."
Leslie McCree, 51, used Airbnb for the first time in early June to vacation with her husband and daughter in Sunnyvale, California. McCree, who works as a public health advisor in Atlanta, Georgia, was initially concerned that the unit didn't have any air conditioning, according to its listing. But, she said, the condo had exclusively five-star reviews and the host assured her in a direct message that it didn't get that hot in the Bay Area.
"It was very hot," McCree said, "and there was one little table-top fan." She also discovered hair in the bathtub, dust and debris in the pullout sofa, soiled linens, dirty skillets, and dead bugs in the cabinets. The upstairs neighbors were loud. And because the unit was on the first floor, she felt uncomfortable leaving the windows open at night.
In her review, a copy of which McCree messaged to the Airbnb host and also shared with Quartz, she described the condo as "hot as heck" and noted its dirtiness and the loud upstairs neighbors. When the review didn't appear after several days, she contacted Airbnb through its in-app support, which explained the 14-day policy.
When McCree still couldn't locate her review after 14 days, she contacted Airbnb again. "The review you posted has now been re posted," a support rep responded later that day. She checked that the review had posted like Airbnb said, and it had. But when McCree searched for her review again in July after being contacted by Quartz for this story, it was gone. She wrote to support again on July 19, noting that she had "been contacted by the media regarding this issue." On July 21, another Airbnb support rep, who identified himself as a supervisor, told McCree her review had been re-posted.
McCree said she doesn't plan to use Airbnb again. "I think the reviews are all hyped up to entice the person to book the property and in turn make money for Airbnb," she said.
Airbnb wouldn't be the first internet company to run into trouble with online reviews. Travel website TripAdvisor in 2017 apologized after it was caught repeatedly deleting a review of a Mexican resort by a woman who said she was raped there by a security guard. Also in 2017, a writer for Vice in the UK duped TripAdvisor into making his shed London's top-rated restaurant.
Ride-hailing company Uber, which asks riders to rate their driver at the end of each trip, has struggled with ratings inflation. Riders are generally reluctant to leave less than a perfect five-star rating, which is widely understood to hurt the driver.
An April 2018 paper (pdf) by Fradkin and two others on the effectiveness of Airbnb reviews noted that "negative experiences are underreported." Their paper used 2014 data, before Airbnb required hosts and guests to submit reviews or wait 14 days before they post, and theorized that guests were withholding negative feedback in part because they feared retaliation. They found that when a "simultaneous reveal" was introduced, there was a modest decline in five-star ratings of hosts and a similar uptick in overall review rates.
"The reputation system is a primary means by which you're going to prevent bad actors from misrepresenting their listings and delivering bad service," Fradkin told Quartz.
Several of the Airbnb guests who spoke with Quartz said they decided to leave negative reviews as a warning to future travelers. "I don't want other people to go through this experience," said Mostafa El-Hoshy, 33. He rented an Airbnb in Manhattan around Thanksgiving last year for himself and his parents that turned out to have rusty faucets, dirty floorboards, and a trash-filled dumpster blocking the entrance. The featured photo on the listing was an aerial view of Union Square Park, though the caption noted it was "not a view from the window."
El-Hoshy wrote to Airbnb on his first night in the apartment about what he felt was a deceptive listing, including photos of the unit. The company told him it had given the host until noon the following day to "get those issues resolved," according to messages he shared with Quartz. El-Hoshy asked Airbnb to cancel the reservation.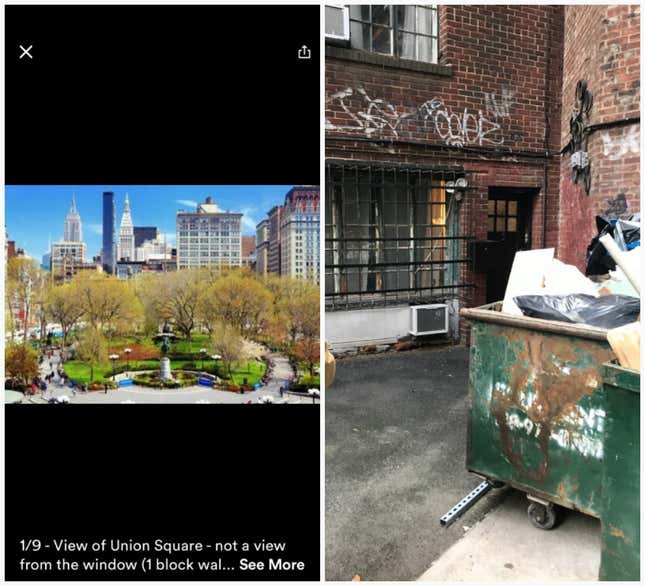 Airbnb later told El-Hoshy that the host "did meet the deadline to get those items fixed" and that he didn't qualify for a full refund because "the host was working with us to accommodate the issues." "I do see where his listing can be misleading," a support rep who identified herself as "Beth" wrote, "but in the description visible, it states that the view of the park isn't from the window, but within walking distance away by being 1 block away."
El-Hoshy eventually contacted Chase, the credit-card provider he'd used to book the Airbnb, which cancelled the transaction. He wrote a negative review of the property and said it never posted. "You just turned a huge Airbnb fan into a huge Airbnb detractor," El-Hoshy wrote in one of his last messages to Airbnb support.
Airbnb, after being contacted by Quartz, said both McCree's and El-Hoshy's reviews "were removed in error," but did not elaborate on why. "We are working to ensure these review go back online, and reaching out to these guests to apologize and fully refund them for the cost of their stay," Papas, Airbnb's spokesman, said in an email. Both McCree and El-Hoshy confirmed to Quartz that their reviews had been posted.
After Donna Oakley noticed that her two-paragraph Airbnb review of the Winston-Salem condo had been rewritten as a single sentence, she contacted support again to ask why it had been changed. "This was a nightmare situation and I don't want anyone else to ever be duped into renting," Oakley wrote to support, according to screenshots of messages she shared with Quartz. "This property is a poor reflection of Airbnb and I'm sure if it had been my first it would have been my last."
When Airbnb replied, it didn't explain why Oakley's review had been condensed and modified, but noted that its reviews are limited to 500 words (Oakley submitted just over 300). "At this point we are unable to help you complete the review as you desire," the support rep said. "Thank you for your understanding on this matter." Oakley said all her messages with Airbnb about the Winston-Salem condo have since disappeared from her Airbnb account, as has any record of her booking the property.
Airbnb, after being told about the incident by Quartz, initially suggested that "the guest might have left comments in a section that isn't public" and said it couldn't "find any record of the review being changed." (Oakley said she's sure she posted her comments in the correct place.) The company said, as a general policy, it doesn't edit reviews.
Oakley used to encourage all her friends to use Airbnb, but after the Winston-Salem experience she doesn't plan to proselytize it anymore. "I have always been like, you've got to try it, let me show you what to do," she said. "And now I'm like, the reviews are not even true."