As we've been saying, there are plenty of signs that investors have been dumping US Treasury bills set to mature during around the time the US will hit the debt ceiling. And here's one solid example: giant US money manager Fidelity Investments says it is one of those investors. Portfolio managers at the Boston-based firm have been selling of short-term Treasury bills over the last couple of weeks, according to Nancy Prior, president of Fidelity's Money Market Group, who told the Associated Press. Sell-offs by Fidelity and others have resulted in the sharp rising in yields on one-month US Treasury bills recently.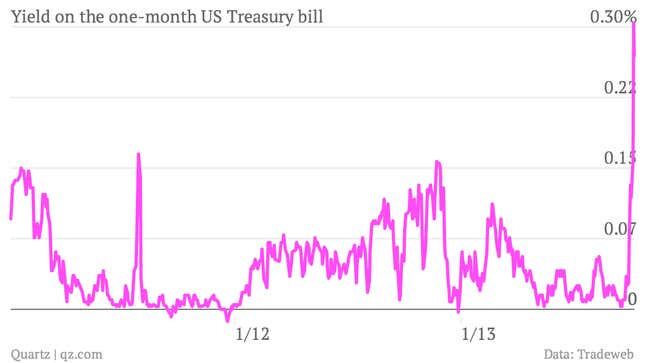 According to the Associated Press:
Prior said that Fidelity no longer holds any U.S. debt that comes due in late October or early November, the window considered by many investors to be the most exposed if the government runs out of money and defaults on its obligations.

"We expect Congress will take the steps necessary to avoid default, but in our position as money market managers we have to take precautionary measures," Prior said.

Fidelity, which manages $430 billion in money market mutual funds, has taken similar actions in the past. The most recent instance was in the summer of 2011, when the U.S. government came close to a default and Standard & Poor's downgraded the nation's credit rating, Prior said.
As Prior later makes clear, it's not as if Fidelity—one of the world's largest asset managers (it had $1.8 trillion under management as of June)—is dumping all kinds of US debt. It isn't even dropping all of its T-bills. It's merely swapping bills that mature during what's expected to be the height of the debt-ceiling wrangling, with longer-maturity bills. Investors expect to be able to collect on the longer maturity bills as per usual.
Even so, as we've said before, that creates an image problem. The appearance of investors prepping themselves for the possibility that the US doesn't pay its debts damages the country's hard-won reputation as a world-class borrower.