Charles and David Koch seeded the low-tax, small government political movement in America that became the Tea Party, which eventually set the stage for Donald Trump's presidency. Now, one of the wealthy industrialist brothers is using the same strategy to fight Trump's trade policies.
In a new television advertisement, Freedom Partners, the conservative think tank funded and backed by Charles and David Koch, asks Americans to oppose Trump's tariffs. (David, 78, retired this year, leaving Charles, 82, in charge of their business and political network.)
"America's farmers work hard to put food on our tables. But because of new tariffs, our farmers' livelihoods are at risk. Carmakers, factory workers, and manufacturers too. And now taxpayers are on hook for billions to bail out desperate farms. Farmers want trade not aid. Tell the administration and Congress 'Open markets and end tariffs,' " the ad says.
As the narrator says "because of new tariffs," a weary-looking "farmer" takes off his red baseball had with white lettering, an apparent reference to the Make America Great Again hats that Trump popularized during his campaign.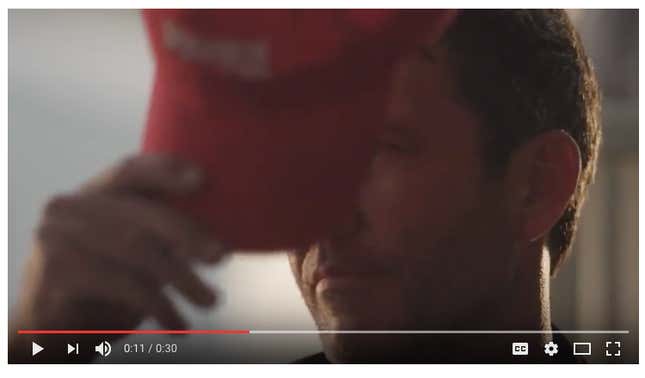 Freedom Partners and its other Koch-funded partners, the Hispanic-business focused "Libre Initiative" and community organizers "Americans for Prosperity" also penned a polite letter to Trump urging him to drop tariffs and re-join the Trans-Pacific Partnership, the massive trade deal he exited his first week in office:
Tariffs harm Americans and are unwise as a negotiating tactic to try to achieve better trade deals down the road. It is not possible to protect farmers, businesses, workers and consumers from them, unwind the damage they cause, or avoid the danger they provoke a full-out trade war where everyone loses.
Whether any of the Koch-backed efforts can convince Trump loyalists to speak out against him is uncertain—some supporters whose industries were directly hurt by tariffs said recently that they still support Trump.