The largest IPO in Europe in more than two years could have been even larger. The privatization of the Royal Mail, in which around two-thirds of the company's shares began trading this morning, raised £1.7 billion ($2.7 billion) for the government.
Frenzied trading pushed the Royal Mail's shares up by nearly 40% within minutes of the opening bell. This followed enormous demand for the initial allocation of shares, with the retail portion of the offering oversubscribed by seven times and institutional investors bidding for 20 times as many shares as they were allowed.
The pop in the share price immediately revived criticism that the government was flogging the 500-year-old company far too cheaply. The gap between offering price and the current share price, if it holds, implies that the government underpriced the sale by roughly £660m, or just over $1 billion.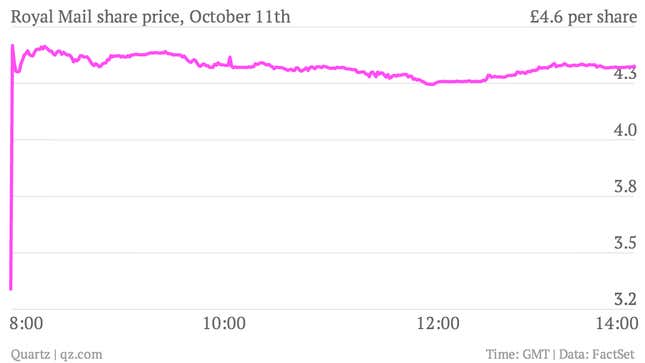 Of course, that conclusion depends on your theory of what the "right" price for an IPO is. In theory, the perfect IPO trades neither up nor down on the first day of trading, meaning the offer price was exactly what the market would have paid. In practice, most listings are underpriced (pdf), which is explained in a number of ways, one being that companies and their bankers want to reward early investors with a "pop" in the price of the shares they bought, creating goodwill towards management as the company embarks on its future as a listed firm. If the share price falls after the IPO—a certain giant social network comes to mind—most analysts consider it a flop.
But the opposite may be true when a government is the one doing the selling. For one thing, it's getting out of the business, so shareholders' goodwill towards it is irrelevant. For another, it has not only shareholders to consider, but taxpayers. There are far more British taxpayers than there are Royal Mail shareholders, so the proceeds denied to the public purse from the lowballed sale are a bigger sore point than a smaller group of shareholders' first-day returns. An overvalued offering would also give the impression that the government has flipped the usual script and soaked the big financial institutions who hold the majority of the privatized group, which could go down well politically.
At any rate, the government will retain a stake in Royal Mail of around 30%. If the share price remains firm, it can offload these shares at a better valuation than the ones it sold today. Another possible silver lining is the windfall that investors will receive thanks to today's trading (Royal Mail employees were given 10% of the company's shares for free). On top of subsidized mortgages and bank fee refunds, recent government policies are doing their part to fatten the wallets of at least some British consumers—the ones more likely to vote for the incumbent Conservatives, at any rate.