The Swedish royal family is no doubt glamorous, and so is the crime that left them—and their subjects—short two priceless historical crowns and a royal orb. On July 30, in broad daylight, two thieves jumped into a speedboat moored below the Strängnäs Cathedral in southeastern Sweden and escaped with these 17th-century accessories.
"One of my friends saw two people running," says Tom Rowsell, who called police after witnessing the escape, reports the Daily Mail. "I saw the boat just there, a white little boat with a motor on the back. The two men hurriedly jumped on board. I knew immediately they were burglars because of the way they were behaving..the fact that the boat was waiting, it was obvious to me that they were burglars."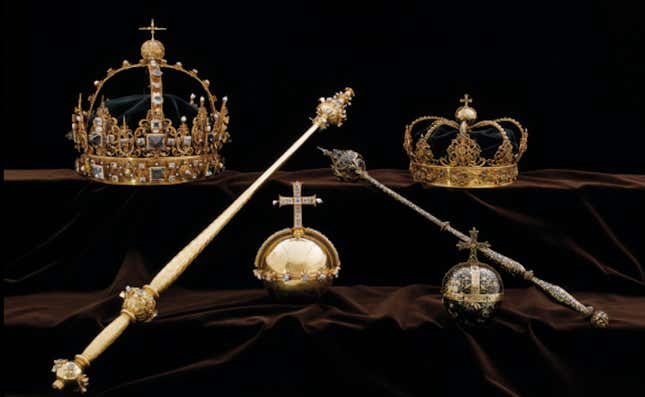 Police pursued the perpetrators by land, sea, and air—in boats, planes, helicopters, and cars heading in all directions—to no avail. Authorities say they still have no notion where the thieves disappeared to. "It's 1-0 to them right now," police spokesman Thomas Agnevik told reporters. "By boat you can reach Mälaren, Köping or Arboga in the west, or Västerås, Eskilstuna or Stockholm if you drive east." He said the search continues.
Authorities seek observations from any witnesses willing to come forward. "Let the police determine what is interesting information," advises a press release (in Swedish). They have not put a price on the centuries-old crown jewels.
One of the missing crowns belonged to Karl IX, who reigned from 1604-1611, and the other to his wife, Kristina. The royals were buried with the headgear, which was later exhumed and put on public display.
The stolen items had been locked in glass boxes and were on view to the public when the audacious heist occurred in the open church, where staff were working. No one was physically injured during the crime, though the pride of the royals and people was perhaps slightly bruised. "This is part of the national cultural heritage—this is a theft from Swedish society," Christofer Lundgren, dean of the cathedral, told reporters.
As mastermind heists go, though, there's a key missing piece even if the thieves continue to elude police. A great getaway is exciting but the criminals have to offload their loot to make the crime worth the time and risk—anyone who's seen a heist movie knows this. But that seems difficult to do with the Swedish royal family's crown jewels.