Microsoft is taking another whack at the tablet market with the smaller and more affordable Surface Go.
The device, which Quartz tested out for a few days, is not much of a departure from the design of other Surface devices that Microsoft has been producing since 2012. It's essentially the same tablet, and if you didn't want a Surface before, you probably won't want one now. But if you're after a more affordable Surface tablet, this might be worth considering.
Let's talk about who might want this device. It's lighter and smaller than a Surface Pro, weighing just over 1 pound without the keyboard cover, and it touts a 10-inch screen. If you don't spend a lot of time on the computer, but need to run some finance apps like Quicken on Windows and surf the internet, the Surface Go is probably perfect. It's a computer for people who don't really want to deal with a computer.
A Microsoft spokesperson told Quartz the tablet is also great for the CEO or project manager who needs to review and mark up images on the go. That's probably not a huge market for a consumer device, but if you are a CEO who reviews images—this is your lucky day.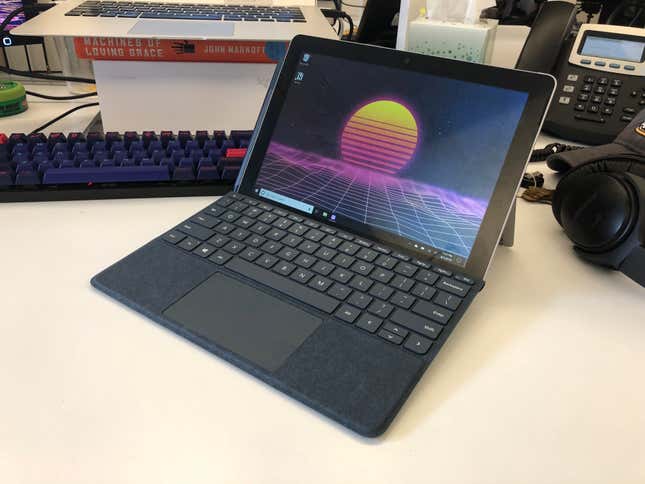 What's good
The design is still premium Surface. You're not getting a cheaper-feeling version of the same product—just a smaller one. It has an HD display, which is bright and crisp, and the Type Cover—Microsoft's keyboard case—is still as functional as the ones on larger Surface models. It doesn't feel cheap or flimsy to type on.
All the right ports. In addition to its proprietary Surface Connect port, which can power the tablet and send video to an external monitor through a Surface Dock (for another $199), the Surface Go has a USB-C port that can be used for charging, as well as data. It also has a headphone jack, and a microSD card slot for expanded memory.
A full Windows experience. There's nothing held back—this the same Windows 10 you'd get on any desktop or laptop.
The price. It's cheaper! But it's still not the least you can pay for a serviceable computer—Chromebooks could be a cheaper alternative, and the keyboard is actually part of the device. It's still a cheaper alternative than a Surface Pro, which is $200 more, before you factor in buying a keyboard or pen. The base price for Surface Go with 4 GB of memory and a 64 GB hard drive is $399, and 8 GB of memory and a 128 GB hard drive costs $549.
What's not
Awkward Windows. Microsoft still hasn't learned how to translate its software into a smaller device. While Windows 10 might work well on the 28-inch screen of its high-end Surface Studio desktop computer, and even on the Surface Pro, it doesn't feel natural on a tablet-sized device like the Surface Go.
The Go's screen is simply too small to use Windows for a long period of time, and it was uncomfortable to use for an entire day. Elements that seem more normal on larger screens, like notifications and the Start menu, take up bigger portions of the screen than they should.
There's also the issue of quickly finding and launching apps. Carrying the device into a conference room for a meeting is easy—it's so portable!—but you're typically not dealing with streamlined mobile apps. Applications like OneNote or Excel still have desktop-type interfaces that are best navigated with a mouse, and once you set the device up with keyboard and a mouse, it's effectively a small laptop, so why not just use a regular one?
It's not actually that cheap. Despite Microsoft's assertions, think of this as a $600 device instead of a $400 one. Without the $100 type cover (or some kind of keyboard, but then you need a case) and the $100 Surface Pen, this device doesn't really make sense for anybody. The need for the keyboard is obvious, and if you were thinking of skipping the Surface Pen for a cheaper stylus, don't kid yourself. The pen is extremely precise and by far the easiest way to quickly take notes on the device (depending on your handwriting, of course). Don't buy the Go thinking you can skimp on the accessories.
Should you buy one?
If you're spending a lot of time on the computer in an office setting, or even at home at a desk, this probably isn't the device for you. For a lighter computing option that doesn't break the bank, go with a Chromebook like the ASUS C302 or Samsung Chromebook Plus—you'll save at least $100 on accessories, too.
But for you, image-reviewing CEO, the Surface Go is now available on Microsoft's website.