Nearly all the world's automotive manufacturers are scrambling to develop self-driving cars. But the world, it appears, would rather buy an autonomous car made by a tech company. According to a study (pdf) released by audit and advisory firm KPMG on Oct. 10, consumers are more likely to splurge on a self-driving car made by Mercedes-Benz than Nissan; they're even likelier to buy one made by the likes of Google and Apple.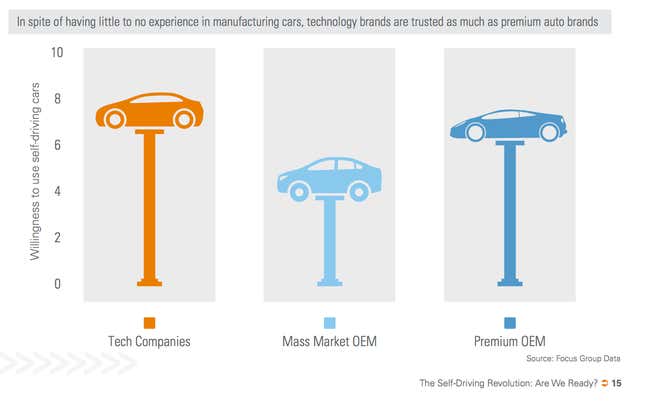 The study surveyed a focus group to assess consumers' trust in various companies producing self-driving cars. Mass-market brands like Nissan and Chevrolet averaged a score of 5 on a scale of 10, while premium brands like Mercedes and Audi came in at 7.75. But tech companies ranked the highest, with an average score of 8.
The focus group's key concerns about the innovation hint at why: The participants were most concerned with technological matters, like handling, safety and innovation, and less concerned with strictly automotive matters, like engine, transmission and styling.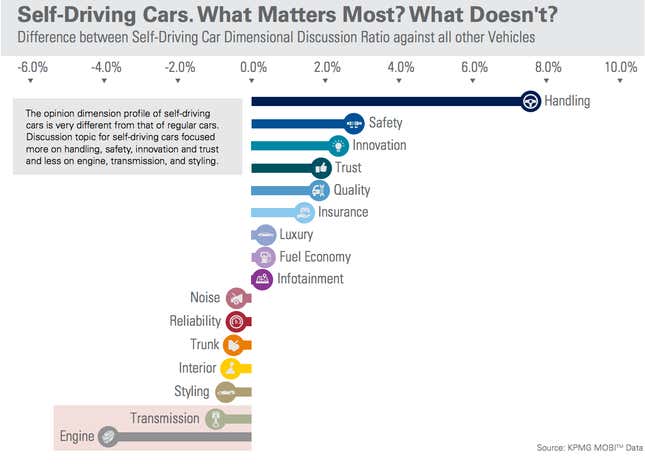 When looking just at the category of tech companies dabbling in automotive innovation, Google ranks as the most recognizable.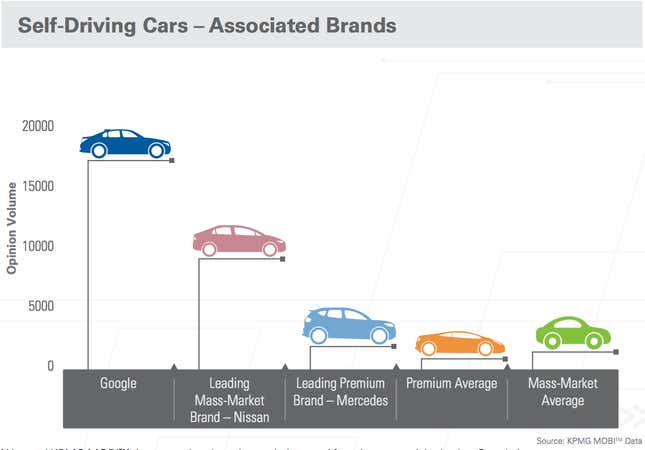 Despite Google's edge, a slew of car companies like Cadillac, BMW and Volvo are knee-deep in developing autonomous automobiles. Nissan, Mercedes, Ford and Audi have already opened R&D facilities in Silicon Valley. But Google's cars have traveled many more miles than any of them—more than half a million miles to date, according to the study. Instead of carmakers and tech companies viewing each other as competition, there may be room for collaboration: Google might want to partner its technology with auto manufacturers rather than making and selling the cars itself. For their part, automakers would benefit from touting Google's brand.