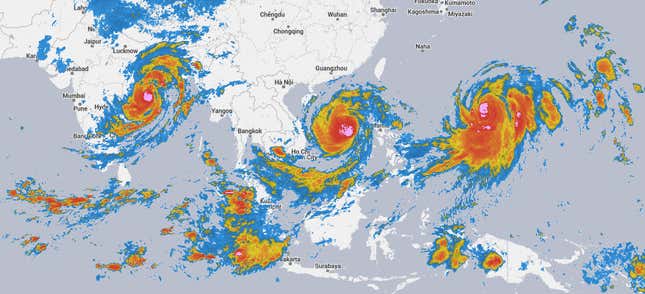 While Cyclone Phailin—at one point, the strongest storm ever recorded in the Indian Ocean—makes landfall in India, two other tropical storms are also menacing Asia. The images above show the cyclone and two typhoons now. The first is from Weather Underground; the second, from Quartz meteorologist Eric Holthaus.
Typhoon Nari tore through the Philippines with wind gusts up to 116 mph, killing at least 13 people and leaving 2.1 million people without electricity. The storm largely spared Manila, the capital city, which is prone to flooding. Now forming again in the South China Sea, Nari is expected to hit Vietnam on October 14 at a similar strength—Category 3—as when it passed over the Philippines.
Typhoon Wipha is a lesser storm at the moment, but it's strengthening quickly and forecasted to turn north toward Japan. Wipha, which officially became a typhoon yesterday, could pass by Tokyo on October 15 or 16.
It's unusual, though not unheard of, for three named storms to stalk the Eastern Hemisphere at the same time. Wipha is the 26th Pacific tropical storm of the year; an average year has 26. Here's another view of the three storms: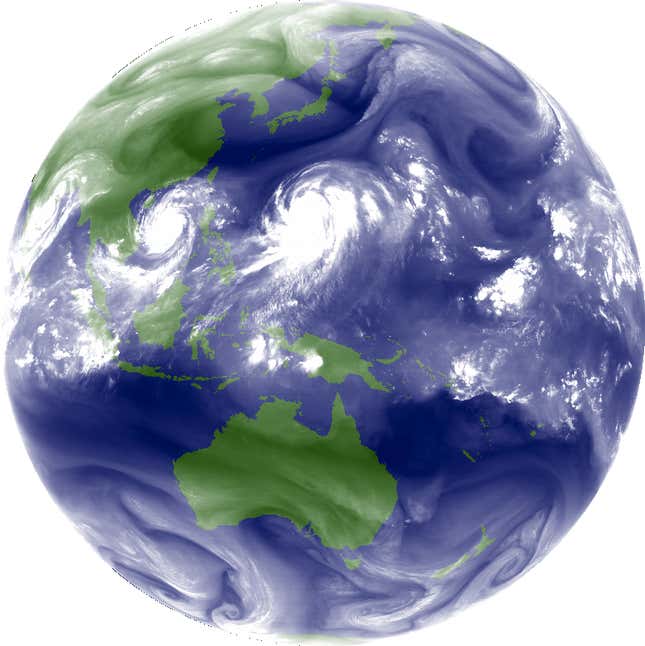 Correction (October 14): These are satellite images, not radar images. The headline of this article originally referred to them as radar images.