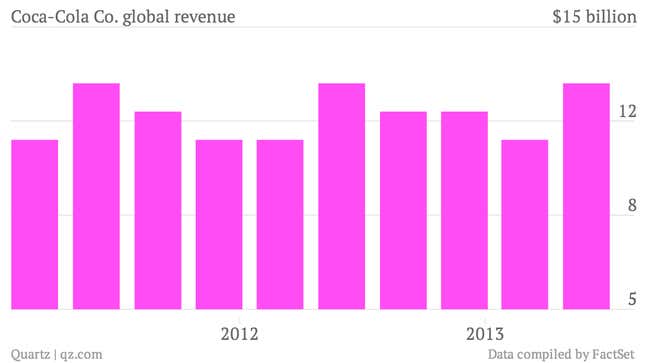 Numbers: So so. Coca-Cola Co. reported a 6% spike in third-quarter earnings from a year prior, on a slight 2% uptick in global volume. Global revenue, however, dropped 2.5% from the same period last year to $12.03 billion. Shares are down slightly in early trading.
The takeaway: Coca-Cola is growing its business by selling more things that aren't soft drinks. "Beverage volume grew 2% in the quarter, driven by growth in the juice and juice drinks, sports drinks, value-added dairy and packaged water," the company said in a statement. Sales growth in Juice, sports drinks, packaged water, tea and energy drinks, which ranged from 3% to 5%, outpaced growth in Coca-Cola's soft drinks, which include Coca-Cola, Fanta and Sprite. Soft drinks still comprise over 70% of Coca-Cola's total sales, a percentage that is all too likely to dip in the coming years as global demand for soft drinks—especially demand in North America, the world's largest soft-drink market—continues to cool.
What's interesting: Last season, Coca-Cola lamented a "cold wet spring," (paywall) as its volumes fell in the US, its largest market, for the first time in over three years. This season, it's the climate down in Mexico, Coca-Cola's biggest consumer per capita, that's causing the global beverage giant a headache. Two hurricanes, Manuel and Ingrid, decimated the Pacific and Gulf of Mexico coasts of the country last month, forcing tens of thousands of people to evacuate their homes and neighborhoods. The resulting fall-off in demand for soft drinks and concurrent "significant disruptions" in Coca-Cola's supply chain contributed to a disappointing quarter in Mexico, and Latin America as a whole, where volumes were flat from the same period last year. "Mexico volume decreased 2% in the quarter, cycling strong 6% growth in the prior year quarter and reflecting both a slower economy and significant disruption caused by hurricanes Manuel and Ingrid in September," the company said in its press release (pdf).