A car that runs on sunshine is in the works from German startup Sono Motors. The company is testing what it says will be the first affordable electric car with a battery that gets an added boost from sunlight, acting as a sort of self-charging power pack.
The Sion electric vehicle is the brainchild of Laurin Hahn and Jona Christians, who together with Navina Pernsteiner founded Sono Motors in 2016.
The car, which will cost €16,000 ($18,300), plus €4,000 for the battery, is scheduled to hit the streets in 2019. It features a lichen air-purifying system, and is covered with 330 integrated solar cells on its roof, sides, and rear. It promises a range of 250 kilometers (155 miles) on a fully-charged battery, and claims the solar panels will give it an added boost of up to 30 km.
"It's not a solar car that you can only drive when it's sunny, it's an electric car that recharges itself," Hahn says. "Imagine a combustion engine car where a guy fills up your tank every day, for free, with a few liters."
The average car in Germany drives just 22 km per day. So under the right conditions, the Sion wouldn't need to be plugged in daily, Hahn says. It also can be powered up using a fast charger in half an hour like a normal electric car.
Solar-powered cars sound like a great idea—so why don't we have them on the roads already? Timo Möller, head of the McKinsey Center for Future Mobility, says that there are two general challenges to using solar as a power source for cars.
One issue is that the energy output of the panel pieces that fit on a car is relatively small—also there's a limited amount of space available to attach the panels. Additionally, perfect conditions of sunlight cannot be guaranteed, given the realities of clouds, night-time, and grey winter skies. (Indeed, the Sion's solar-powered boost of an extra 30 km is based on calculations that assume eight hours of daily sunshine.)
The second challenge, according to Möller, is solar panels' relative fragility. "The risk that these panels break is relatively high because they are crystalline, a flat structure, and even during assembly already there's the risk that you break it—the solution would then be to move over to more flexible, film-like structures," Möller tells Quartz.
Sono Motors' solution was to create a its own solar panels and integrate them onto the car.  "Obviously, you can't just take those solar panels from the roof [of a house], because they're not break resistant, etcetera. And you have very high automotive standards," says Hahn. "So we developed a special solar module…with a 24% conversion, that's actually used in space technology."
A 24% efficiency rate (the ratio of energy output from the solar cell to input energy from the sun) is higher than most of the solar modules used on rooftops, Sono Motors says, which normally come in at 20% to 22%.
Sion is not the first company to try and put solar panels to work on a car. One model of the Toyota Prius Prime, available only in Japan, has solar roof panels that feed power to the battery. Audi has also been working on integrating thin-film solar cells into panoramic glass roofs. Other car companies have used solar cells to power functions like air conditioning.
"We will be the first when we launch in the mass market," says Hahn. The company plans to produce 200,000 Sions within the next eight years. That's an ambitious goal, considering that the Nissan Leaf, the best-selling electric vehicle on the market, just recently sold its 300,000th Leaf since launch in 2011.
One thing that has helped Sono Motors speed up development—and help keep manufacturing costs down—is using specific car parts that are already on the market, the company says. A contract manufacturer in Europe, the name of which Sono plans to reveal later this year, will produce the cars.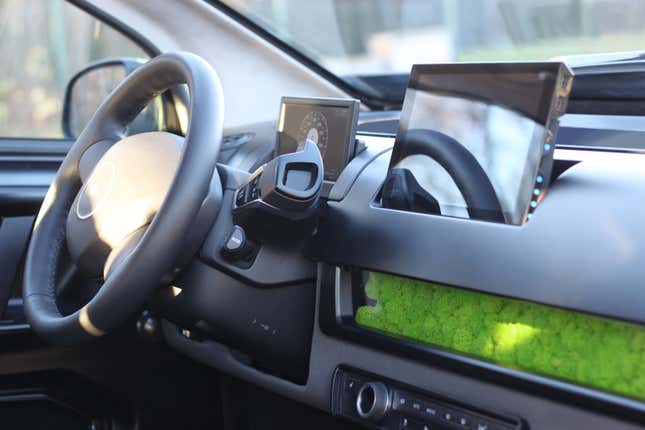 While the solar panels may be the Sion's flashiest feature, the lichen integrated into the car's dashboard is also noteworthy. The specially treated lichen is designed to filter fine dust out of the cabin air through electrostatic attraction. There's no need to take care of the lichen; it's behind glass, and never needs replacement.
Sono Motors says some 7,000 people have already pre-ordered its EV. The company has managed to get this far thanks to a crowdfunding campaign from mid-2016 to mid-2017 that raised €850,000, and  an additional €1.7 million raised via a micro-shareholder campaign and a campaign on the German website WiWin, where people can lend money as a fixed loan. Investors include wind-and-solar company juwi and automotive supplier Böllinger Group. Sono hasn't disclosed how much the bigger investors are in for.