Internationally acclaimed Chinese artist and activist Ai Wei Wei knows that nothing lasts. His installation "Forever,"  for example, composed of more than 1,200 bikes, is a commentary on China's changing economy. Once the Forever brand bike was a symbol of luxury; car culture has since replaced the once-ubiquitous, much more humble form of transport.
Now Ai's studio in Beijing has itself become a symbol of a transforming nation. On Aug. 4, the studio—which he'd occupied since 2006—was demolished with little notice, according to Ai's posts on Instagram.
Although the artist, who currently lives in Berlin, is an outspoken free speech activist, the demolition doesn't appear to be a political act. Rather, the destruction of the studio was commercially motivated—which is what makes it a poignant symbol of the new China, home of the world's largest shopping mall.
The artist's lease was up and the neighborhood, previously a tree-lined art district of low buildings, is slated for transformation into a shopping center. China's malls are thriving despite e-commerce, according to brokerage firm DBS Vickers, which last year noted that luxury consumption in major Chinese cities is on the rise and will continue to be for the foreseeable future. Ga Rang—the artist's assistant and studio manager for more than a decade—tells The Nation, "The authorities say they want to develop things here, build malls and commercial buildings. But it's a shame–you won't ever find a place in Beijing like this again."
No time for sentiment
Ga explains that he had little warning of the studio's destiny. Just a few days before demolition crews showed up, the assistant learned that the space was targeted for destruction, and no specifics were given on exactly when that would happen. "They came and started knocking down the windows today without telling us beforehand. There's still so much stuff inside," according to the studio manager, who spoke while in the throes of the action, simultaneously directing a crew of movers.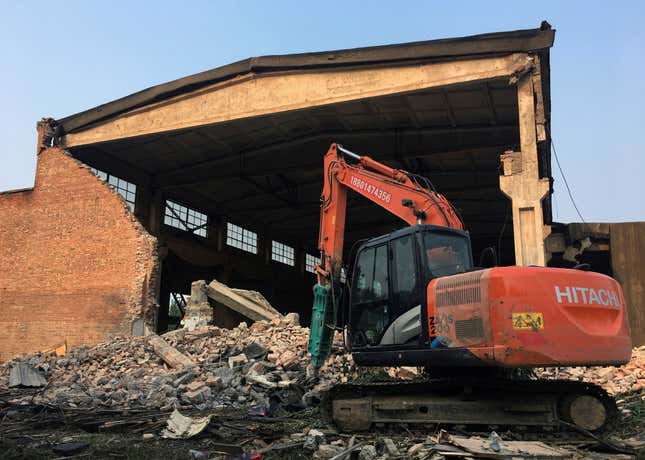 The destroyed studio is where Ai built many of his most iconic works, and Ga believes it will be hard to find a storage space large enough to house the artist's massive installations. Work from his first Chinese solo show–a 1,500-piece reconstructed Ming dynasty temple–was packed up in boxes, stacked amid the shattered glass windows of the studio. Other pieces were standing outside surrounded by the deconstruction rubble.
Demolition in the area began about three months ago. Ai's studio—in a neighborhood known as Left Right Art District—is among the last of the buildings to go down. It's in the northeast Beijing suburbs and lies right next to an as yet undeveloped district called Big Wealthy Regional Park. It seems the artistic enclave will soon have similar goals.
Portrait of the artist as a young man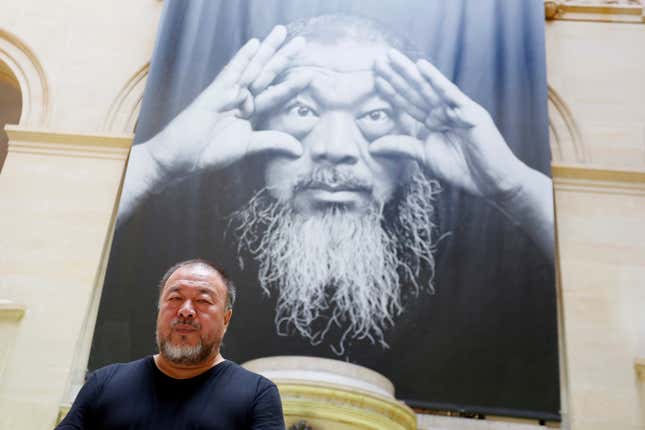 Ai was incarcerated in 2011 after speaking out against the Chinese communist regime, one of many writers, activists, and artists swept up in a government crackdown (paywall). He was released after 81 days, and allegedly spared some of the more brutal punishment meted out to other prisoners, but his passport was held hostage by authorities. The artist moved to Berlin in 2015 after his papers were returned.
Still, he's always been aware of the tentative nature of the relationship between the people and authorities in China. Born to a family that has continually been at the center of change in China, his father, Ai Qing, was a nationally acclaimed poet who was first embraced by Mao Tse Tung, then shunned during the Cultural Revolution and exiled to the Gobi desert with his family for two decades. The artist reflected on this difficult childhood in a 1978 letter, writing:
We drifted on a small boat for 20 years…If I can say I have some valuable things, those are my memories. Memories of the endless muddy road, the wild Gobi Desert without any sign of people. The bottomless memory poisoned our young souls like snakes, but we didn't die in it. On the contrary, I want a better life for myself to control my own destiny.
It is for this reason, no doubt, that Ai abandoned his studio in Beijing and ultimately left his homeland behind him. He still has his memories, of course, but there's even less for him to go back to in China now that his studio is gone, along with the bicycles that symbolized Chinese life.
As for the reaction to the destructive act in Beijing, the young construction worker driving the demolition vehicle, who was not named, claims to have no particular feelings about tearing down the artist's historic studio or the fate of Ai's great works, The Nation reports. He admits, however, that he prefers small structures to big shopping malls. "But even if I don't like it, I'm just an ant, what say do I have? And anyway, I don't really know what you mean by art."