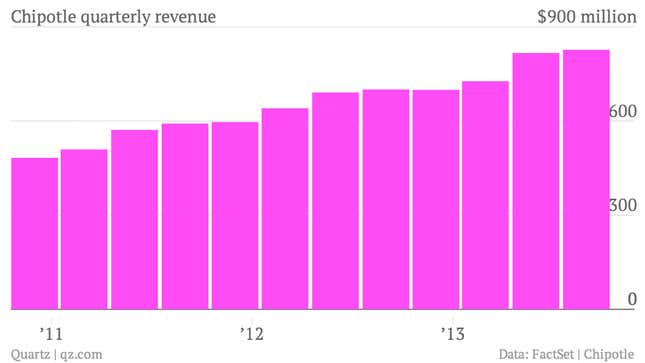 The numbers: Tasty. Third-quarter sales at this American purveyor of Mexican fast food rose 18% to $826.9 million, versus the same quarter last year. Profits rose 15.3% to $83.4 million. Sales at stores open for for 13 months or more rose 6.2%. Shares rose 2% after hours.
The takeaway: The profit parade keeps on going. Since being spun off by McDonald's back in 2006, Chipotle's impressive earnings power has driven the shares sharply higher. Since 2006, annual sales growth has clocked in around 22%. Annual profit growth arrived at about 39% through 2012. Over the last year the shares have continued dusting the broader S&P 500 stock index. Chipotle's stock price is up 51% compared to the S&P's roughly 19% gain.
What's interesting: A key throttle on Chipotle's sales is the long lunchtime lines that form at its restaurants. Company executives say they can still speed things up. But during the second quarter, Chipotle officials admitted to being somewhat disappointed at an increase of just two transactions per hour during the Friday lunchtime rush. Back in 2012, a company official said its busiest restaurants do 300 transactions per hour during the lunch rush almost every day. "We know we can deliver even faster throughput during our lunch peak. And as we do, we know that more customers are going to choose to visit Chipotle, confident that they will breeze through the line and receive terrific customer service," Chipotle co-CEO Montgomery Moran told analysts on last quarter's call. We'll have to wait for this year's call to hear how things went in the third quarter.