Malaysian police have filed the first charges against Low Taek Jho, alleged mastermind of the financial scandal involving state development fund 1Malaysia Development Berhad (1MDB). Low's whereabouts are a mystery, though some believe he is in China.
Low, commonly known as Jho Low, was hit with eight charges today (Aug. 24) under the country's Anti-Money Laundering and Anti-Terrorism Financing Act, according to local media outlet The Edge, with three charges for receiving money and five for transferring it. Accounts in Singapore, Switzerland, and the Cayman Islands were involved in the transfers. His father, Tan Sri Low Hock Peng, also faces a charge of transferring $56 million to his son. The total sum involved is about $261 million on the receiving side, with most of the money used to purchase the Equanimity, the superyacht seized by Malaysia a few weeks ago.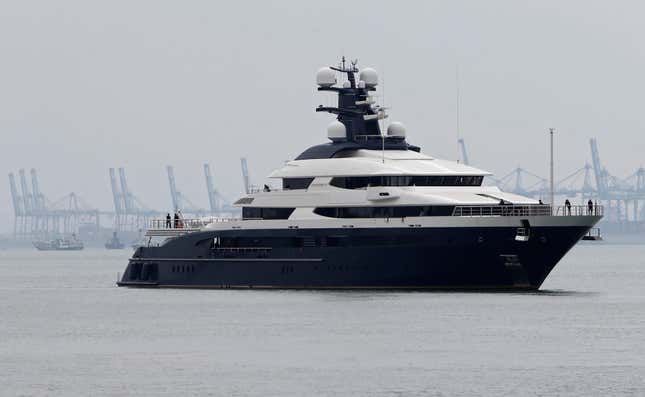 Billions of dollars are believed to have been siphoned from the 1MDB fund for everything from buying New York real estate to producing Hollywood movies. Investigators in Malaysia, the US, Singapore, Switzerland, and elsewhere are now cooperating on the case.
Low has maintained his innocence. A spokesman, in a statement issued following the charges, said Low faces a "trial by media" and requested that the public "keep an open mind until all of the evidence comes to light."
Earlier this year Low told associates he felt safe because Najib Razak, then prime minister, was protecting him, according to the Wall Street Journal (paywall). In May, Najib suffered a surprise defeat in Malaysia's election, falling to current prime minister Mahathir Mohamad. Mahathir has rejected an offer by Low to drop his claim to billions of dollars worth of assets in exchange for immunity, the Journal reported.
Najib, who now faces 1MDB-linked money-laundering charges of his own and is barred from leaving the country, said this month that Low must be held accountable if the luxury yacht was obtained through illegal means.
Authorities hope to extradite Low back to Malaysia to face charges—if he can be located. They said earlier this month that intelligence agents are trying to track him down, adding that Malaysia could work something out with China if Low is hiding there.
Mahathir recently described Low as "slippery and sneaky," and said he was using multiple passports while moving from one country to another.