The White House is "taking a look" into regulating Google, Donald Trump's top economic advisor said Tuesday morning, after the US president tweeted in the early morning hours that googling "Trump news" turned up too many negative results.
Google search results has it "RIGGED, for me & others, so that almost all stories & news is BAD," Trump wrote before 5am EDT, in tweets that were erased and then reposted hours later. Google & others "are suppressing voices of Conservatives and hiding information and news that is good. They are controlling what we can & cannot see!" he wrote.
Asked by a reporter whether that meant there should be some sort of regulation for Google, economic advisor Larry Kudlow said "We'll let you know. We're taking a look at it." Later, Trump told reporters he thought Google is "really taking advantage of a lot of people." There are "literally thousands and thousands of complaints coming in," he said. Google, Twitter, and Facebook are "really treading on very, very troubled territory and they have to be careful."
Trump's attacks on the press, and now Google, "are strategic, designed to undermine confidence in reporting and raise doubts about verifiable facts," say representatives from the United Nations and the Inter-American Commission on Human Rights. Trump is "at it again, promoting his usual anti-press, anti-fact agenda," said David Kaye, the UN Special Rapporteur on freedom of opinion & expression today.
The growing right-wing battle
Regulating the US's monopolistic tech giants (Google controls almost 90% of US internet search)  became a rallying cry for some Democrats last year, as Congress investigated social media's impact on the 2016 election. Facebook, Google, and Amazon are too big and should be broken up, a small but vocal group of activists in the US believe.
Nonetheless, Congress has passed no major regulations governing their activities, after the companies spent millions on lobbyists to push back against even simple new rules. Now, the same companies are being criticized by the right, as the US heads into contentious midterm elections that could determine the future of Trump's presidency. Twitter and Facebook have also been hit with accusations of bias by Republican Congressmen, which they deny.
It's unlikely that Trump Googled himself—he doesn't use a computer, as New York Times reporter Maggie Haberman points out. His tweets this morning seemed to stem from a broadcast by Fox Business Network last night, which cited a PJ Media post claiming that "96%" of news about Trump comes from "liberal media outlets." The same post used a graphic with unclear methodology to define left and right (it classifies "Time Magazine" and "NBC News," for example, as far-left media outlets, but "Fox News" as center to middle-right.)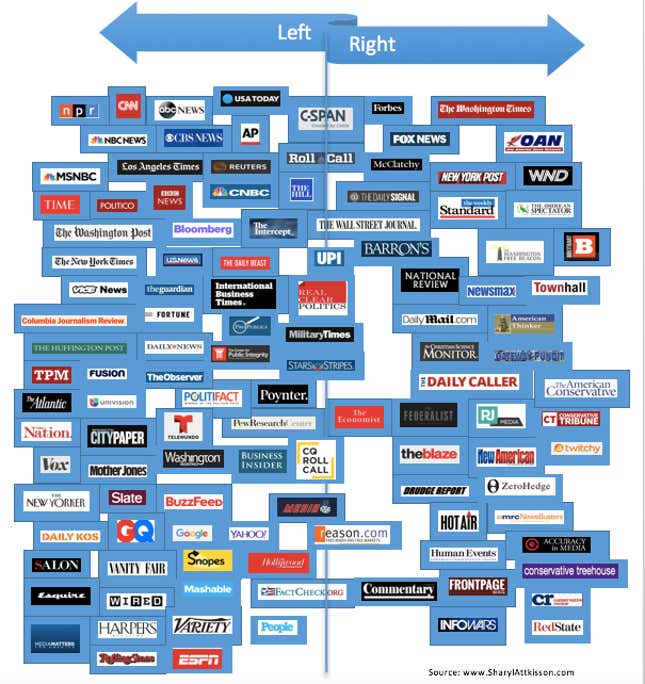 The alleged silencing of right-wing speech is a familiar theme. Earlier this year, at CPAC, the conservative political action committee meeting outside Washington, D.C., a hot topic for young attendees was "freedom of speech" on college campuses, after some schools changed their policies to disallow white supremacist-linked speakers. Ted Cruz, the senator from Texas, mentioned a "draconian speech code" at universities, while education secretary Betsy DeVos told the audience that free speech "is a very timely and serious issue that I think that we have got to address from a multitude of angles."
Trump has since escalated his attacks on "Fake News" as an ongoing FBI investigation into his campaign turns up indictments and guilty pleas. Trump referred to the "Fake News" 49 times on Twitter in June and July, versus 47 times for the entire rest of the year. As the investigation continues, the White House plans to keep putting Trump on stage, at rallies around the country.
How Google's results are ranked
The results people see when they search for "Trump" or anything else on Google depend as much on the web page content as the user's personal search history. Google's search algorithms look at things like the number of relevant keywords on the web page, the links in the post, and volume of content that the site has produced.
To figure out what users are looking for, the algorithm also considers what the user has searched for and clicked on before, where they are, and what device they're using to help rank page results. Even searches using incognito or private browser mode factor in things like the user's location and device. 
Google doesn't reveal much detail about how its algorithms work in practice; it's the secret sauce that separates Google from other, less-successful search engines like Bing and Yahoo. But it has said there are more than 200 signals, or ranking factors, that its search algorithms take into account. The company also tweaks the algorithms regularly to improve the results. The algorithms evolved from Google's system called PageRank, which ranked pages based on the number and importance of links that directed to them.
"Search is not used to set a political agenda and we don't bias our results toward any political ideology," said a Google spokesperson in a statement to Quartz. "Every year, we issue hundreds of improvements to our algorithms to ensure they surface high-quality content in response to users' queries. We continually work to improve Google Search and we never rank search results to manipulate political sentiment."
Google algorithm is such a black box that news publishers themselves rarely have a full understanding of how how it works, making accusations like Trump's hard to definitively confirm or refute.
Facts and liberal bias
Why is Google so "left-wing biased," asked a Quora user this summer. Robert Rossney, who says he is a technical solutions engineer at Google (and frequent responder) offered this reply:
Engineering organizations tend towards so-called "liberal" positions because the practice of engineering emphasizes finding workable solutions, and you can't come up with workable solutions without accurately assessing the state of the world.

American conservatism, especially over the last 30 years, has come to value ideology over evidence. That's fine if you don't have to make anything that works. But if you're concerned with functionality, as engineers are, you have to go where the evidence takes you. And to conservatives, that will make you appear leftist.
Google does have ideological biases. The primary one is right there in its mission statement. Is making information universally accessible and useful is a good thing? It seems likely to me that it is, but it's a lot harder to prove and disprove than other ideological positions, like "tax cuts improve investment and promote general prosperity," which are provably false.