Nestled in the mountains near the northern coastline of Taiwan, just outside of its capital, is a tower that, once full, will house the ashes of 400,000 people.
At 20 stories tall, the True Dragon Tower is the biggest columbarium in the world. It's a striking manifestation of two problems plaguing countries all around Asia—a rapidly aging population, and a lack of space for the dead in urban centers.
That makes death big business in places like Taiwan, an island nation just slightly larger than the state of Maryland. True Dragon Tower is owned by Lung Yen Life Service, a Taiwan-listed company that is the third-largest funeral services operator in the world by market capitalization. After a decade of construction, the tower finally opened for business in 2002. Its soaring height was, in part, a response to the rapidly increasing rate of cremation in Taiwan. In the 1950s (pdf, link in Chinese), the Taiwanese government promoted it instead of ground burials in anticipation of a space crunch in the future, said the spokeswoman for Lung Yen. Well over 90% of people in Taiwan are now cremated, a rate similar to that of other developed places in Asia such as Japan and Hong Kong.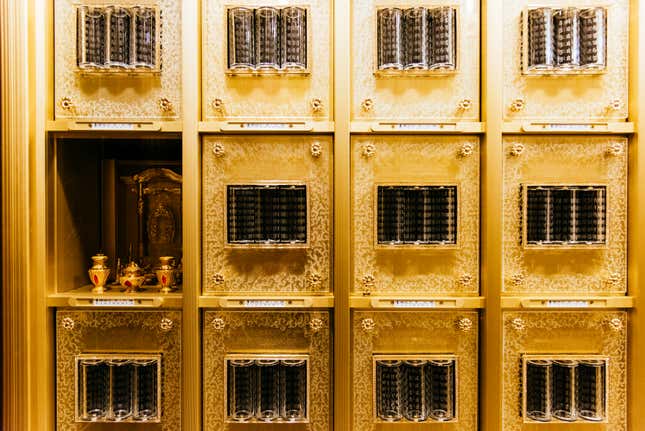 People over 65 currently account for more than 14% of Taiwan's population of 23.6 million, fitting the World Health Organization's definition of an aged society. According to government projections, Taiwan's population will peak in 2021, and fall below 20 million in 2050. The country already has one of the lowest birth rates in the world, and as Taiwan's fertility rate continues to drop, by 2065, 41.2% of the population could be elderly. The challenges that come with a large elderly population, though, have already begun; the number of deaths in Taiwan averaged over 170,000 people per year in the last two years and is rising every year. Much of Taiwan is mountainous and unsuitable for development, so almost 7 million people are concentrated in Taipei proper and New Taipei City, the municipality surrounding the capital.
As the competition between the living and the dead intensifies in densely populated cities like Taipei, companies and governments are promoting alternative forms of burial, which the public largely accepts, though sometimes deeply-rooted beliefs about death mean that the public isn't always quick to adopt them.
Flashing Buddhas
A space for the afterlife doesn't come cheap in True Dragon Tower. After all, the building was designed as a "hotel for the dead," as described by a company spokeswoman.
A basic individual niche measures about 22 by 25 centimeters (9 by 10 inches) and starts at about NT$200,000 ($6,500). More elaborate niches can cost more than NT$1 million at the top end (excluding the costs of other funereal procedures such as memorial services and burning offerings). For reference, the average monthly wage of a worker in Taiwan in 2018 was about NT$40,000. Sometimes people buy niches for themselves, but more often it's the deceased's family that raise the money to pay for the right spot. The fees for a niche reserve the space indefinitely, so families don't have to worry about raising more to renew a lease of sorts.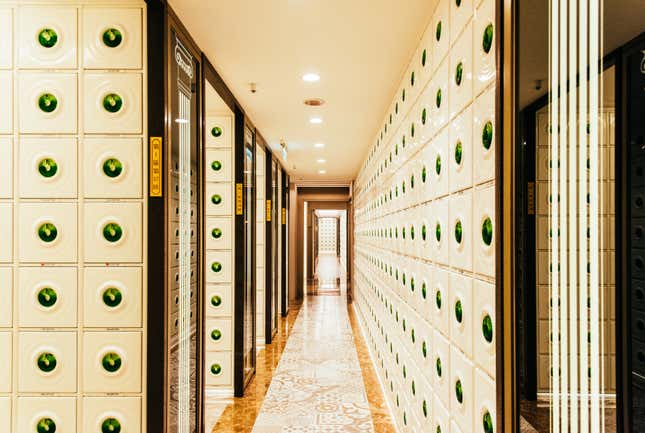 On the outside, the tower is shaped like a white trapezoidal prism and is almost entirely opaque, with a pagoda at its apex. Each floor in the tower has a different theme depending on the customer's religious belief and aesthetic preference. One floor offers features such as state-of-the-art LED mini Buddha statues (technology that's been imported from Japan) embedded in each niche door. Others offer more neutral palettes, intended for Christians or atheists. Among the most striking levels is on the 17th floor, designed by Pritzker Prize-winning Japanese architect Tadao Ando. It features a space bathed in white marble floors and stacked with porcelain niches to evoke the lightness of a heavenly afterlife. About 8% of True Dragon Tower's niches are occupied already.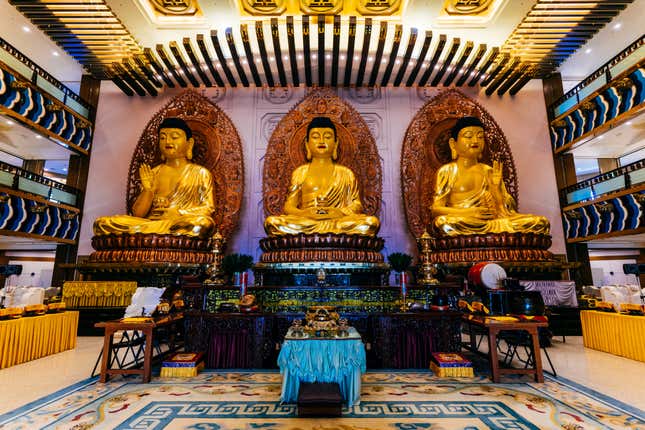 According to Chinese belief, the spirit lives on in the afterlife, so people want their loved ones to be buried somewhere pleasant. That's why there's a park surrounding the tower—it's part of the hotel experience for the dead. The land—long owned by the family that runs Lung Yen—covers some 55 hectares (136 acres) and overlooks the Taiwan Strait. The park is designed to fulfill the basic feng shui principle that buildings are most auspiciously oriented (paywall) when they face water with mountains to the back. Graves and mausoleums dot the space, catering to Taiwan's wealthiest individuals and families. There is also a columbarium for animals, reflecting the large amounts of money that Taiwanese are willing to allocate towards their pets as fewer people have children to spend it on.
Demand is only growing for Lung Yen's facilities. In the next five to seven years, Ando will build another (more horizontal) columbarium next to True Dragon Tower, complete with gardens brimming with cherry blossom trees. The Japanese architect will also build three other such columbaria and park space around Taiwan.

Eco-burials
Lung Yen's offerings are out of reach for the average Taiwanese citizen, many of whom will instead turn to public services, for which a citizen pays a minimal fee to be buried in a public facility. As columbaria become overcrowded—and NIMBYism prevents governments from freely building new facilities to store people's ashes in dense urban areas—governments around Asia have vigorously promoted alternative forms of burial to tackle the problem of land scarcity.
Since the 2000s, the Taiwan government, along with some religious institutions, have been offering environmental "eco-burials." Customers can opt to have a relative's ashes scattered at sea, or buried in a mound of soil in a bed of flowers or around a tree. Wang Wen-hsiu, an official with Taipei's mortuary services office, said that some 24,000 people die each year in the capital, and space is running out in Taipei's three public columbaria. Currently, all ashes must be exhumed from their niches after 50 years unless somebody renews the lease. If no one does, then the government exhumes the ashes and eco-buries them. 
Chinese traditions of ancestral worship and the firm belief that the dead should have an eternal place to rest make the scattering of ashes a hard proposition for most Taiwanese to accept. But it is catching on. In Taipei, about 22% of people chose eco-burials, particularly tree burials, in the first half of 2018 (sea burials are the least popular form of eco-burial in Taiwan). Non-traditional burials have had less success elsewhere, like in Hong Kong where, despite the government's attempt (paywall) to popularize them, only 13% opted for eco-burials in 2017.
Going mainstream
There are a few reasons why eco-burials have been so successful in Taiwan. For one, they're free. The Taipei government will even subsidize people who want to take their relatives' ashes out of a public columbarium for a green burial, said Wang.
Another reason is demographics. Wang Chen-ling (no relation to the other Wang), an associate professor in land management at Feng Chia University in Taichung, said as Taiwan's population ages and its birth rate plummets, people who don't have dependents are more prone to choosing a hassle-free form of burial that doesn't require relatives to tend to a grave or perform rites of ancestral worship. Religious groups also had a major effect on bringing the concept into the mainstream in Taiwan, said Wang, particularly after a revered Buddhist master, when he died in 2009, chose for his ashes to be scattered in a garden at the monastery he founded on the outskirts of Taipei. Today, there is even a waiting list (link in Chinese) for tree burials at the monastery.
But a more fundamental change in the way that Taiwanese think about death is underway. Wang, the city mortuary official, said that successful attempts to "park-ify" eco-burial grounds are also helping to make death less scary and taboo, and more a part of everyday life,and promote green burials in the process.
Taipei now has two public parks (link in Chinese) that double as graveyards where tree and flower burials take place. People are increasingly hanging out there—the government has even organized music concerts at tree-burial grounds—as a communal way of remembering the dead in place of performing traditional rites at graves or columbaria. In the future, going to one of these parks could be like "going to an art museum," Wang said.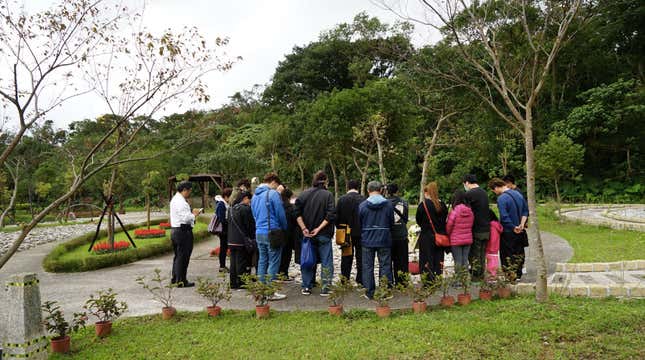 Lily Kong, a geographer, wrote in an academic journal (paywall) in 2011 that Taipei was one city that had successfully managed to change the perception of cemeteries in Chinese cultures of being "sites wrapped in unhealthy miasma." 
As people in land-strapped nations move away from cultural practices that take up too much space, they may find those places become more pleasant to live. Instead of seeking out solemn spaces dedicated to the dead, their descendants may attend a concert or take a walk in the park as a way to remember their ancestors.
Be sure to download the Quartz Brief app for iOS to explore our 3D model of Dragon Tower in augmented reality.