Update, Sept 18: Hurricane Florence has flooded multiple pig manure lagoons in the state.
North Carolina is one of the biggest hog-farming states in the US, with about 9 million pigs being raised on some 2,300 farms. That equals a lot of manure—about 10 billion pounds of wet animal waste are produced in the state a year, according to the Waterkeeper Alliance. Farms store the pigs' feces in uncovered, earthen lagoons, some the size of football fields. And now they're at risk of becoming a public health hazard when Hurricane Florence touches down.
The storm is set to sweep through North Carolina on Thursday or Friday, and the manure lagoons are squarely in its path. A farming journal urged hog farmers to prepare for the storm.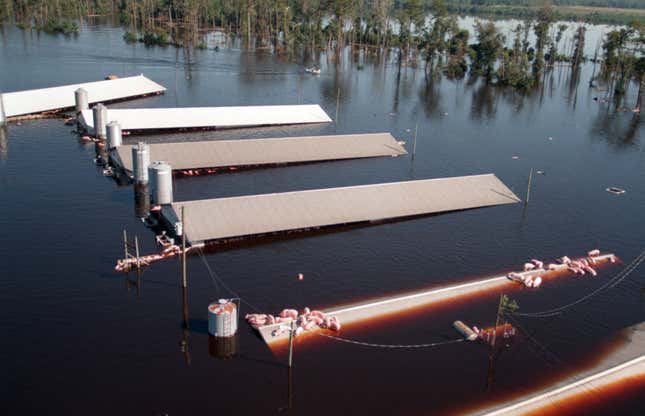 We've seen this before: 2016's Hurricane Matthew inundated 14 hog manure lagoons. In the days leading up to the hurricane's landfall, some farmers pumped waste out of their lagoons and hauled it away in an effort to limit the damage. Hurricane Floyd in 1999 did much worse, flooding "dozens" of hog lagoons and causing half a dozen lagoons' containing walls to fail. The liquid waste that escaped eventually wound up in estuaries, and was blamed for algae blooms and fish kills.
Floodwaters that come in contact with hog feces make for a toxic soup, and raises fears about the potential for bacteria from the pig feces to contaminate North Carolina's groundwater.
Andy Curliss, the CEO of the North Carolina Pork Council, told Bloomberg that lagoons can handle as much as 25 inches (64 centimeters) of rain without failing. "If we get more than 25 inches of rain, then we'll start to be concerned," he said.
According to Accuweather forecasts, up to 40 inches of rain are expected in parts of North Carolina.
Even without a storm on the way, daily life near a hog farm can be toxic. The world consumes cheap bacon at the expense of North Carolina's rural poor, as Lily Kuo reported for Quartz in 2015.
Duplin County, the heart of the North Carolina's hog country, is one of the poorest in the state. It is disproportionately black and Hispanic compared to the rest of the state, and the smell of excrement seeps into all aspects of routine life. Research on health impacts of hog farms is lacking, but studies point to effects ranging from impaired memory function to higher infant mortality (paywall) rates, higher asthma rates in children to wheezing and higher blood pressure among the neighboring population.
…at heart, it's a story about poverty and racial inequality, and how those forces play out in a state where the hog industry has emerged as both essential for the economy and an oppressor of poorer communities of color.

It begs questions about the quality of life the world's richest nation will tolerate for its poorer citizens, questions that have been thrown into sharp relief by the recent entry into North Carolina of China's—indeed the world's—largest pork processor, WH Group. Drawn by the low cost of production there, WH Group finds it cheaper to raise pigs in North Carolina and export them to tables back home than to raise the animals in China. The irony is not lost on the residents of Duplin County.
"The poor people, they literally get shit on," says Kemp Burdette, who advocates for better water quality in North Carolina's Cape Fear River with the nonprofit, the Cape Fear River Watch.