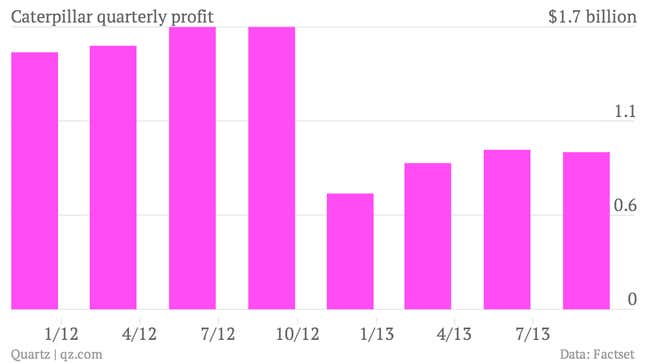 The numbers: Caterpillar reported a profit of $946 million (paywall) for the third quarter, a 44% drop from the same period a year ago, at $1.7 billion. The company also cut its full-year forecast, predicting that sales this year will reach about $55 billion, down from a previous sales forecast of between $56 billion and $58 billion.
The takeaway: Caterpillar, the world's largest manufacturer of mining and construction equipment, is getting hit by slowing orders for mining equipment as miners cut back because of weaker global demand for commodities.
What's interesting: Caterpillar, which has been bullish on China all year, still believes the slowdown in the country's economy will pick up. Caterpillar's sales in China rose almost 20% for the quarter (pdf, p.17), even as overall sales in Asia Pacific declined. "I am not one in the camp of a China implosion—that China will implode and drag the world down into a massive black hole," chief executive Doug Oberhelman told analysts. The company is also starting to depend more on its sales of "power systems," engines used to power trains, boats, or oil, gas and industrial machinery. The systems now make up 61% of Caterpillar's total operating profit.