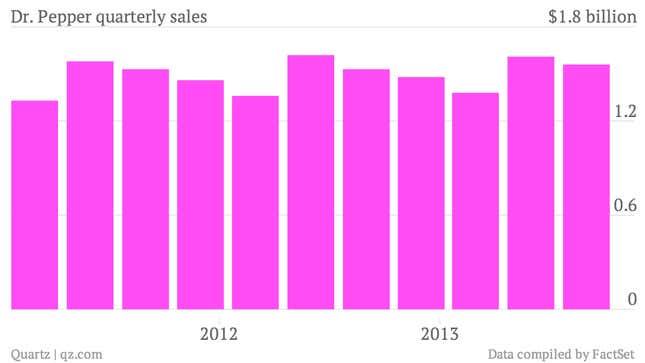 The numbers: Dr Pepper Snapple Group Inc. reported third-quarter earnings of $207 million, marking a 16% climb from the same period last year. Revenue grew a more modest 1% to $1.54 billion, a tad soft compared to analyst expectations of $1.56 billion. Shares are up slightly in early trading.
The takeaway: Growth be gone! After projecting a full-year growth target of 2% back in July, Dr Pepper has tamed its expectations and is now looking at what will likely be flat sales for the year.
What's interesting: Americans aren't drinking soda, and that's bad news for Dr Pepper. The company controls a number of brands, including 7-Up, Hawaiian Punch and Mott's apple juice, but the bulk of its sales are buoyed by the US soft-drink market. Problem is, that market is shrinking, especially when it comes to drinks that are high in sugar and calories. US consumption of fizzy drinks has fallen in each of the past five years (paywall). Companies like Dr Pepper, which rely heavily on the demand for those drinks, are being forced to shift more into diet and health-focused offerings, like Dr Pepper Ten, which the company launched last year. The shift, however, isn't an easy one, and even diet-drink sales are suffering, notes chief executive Larry Young, who acknowledged in the earnings reports that the "extremely challenging environment" is hurting demand for regular and diet drinks alike.