During a rather turgid two hours today (Sept. 12), Apple plodded through announcing three relatively minor upgrades to its iPhone line, briefly touched on some software updates for some other products, and introduced its latest Apple Watch. Although the iPhone is still Apple's cash cow, and its most popular product (followed by its Mac computers and iPads), there weren't really any new breakout features or hardware on display today.
Instead, the most interesting things Apple announced were in its new Apple Watch Series 4. Although growing in popularity, the watch only represents a fraction of a fraction of the company's sales. Even so, it appears to be where Apple is currently focusing a good bit of attention.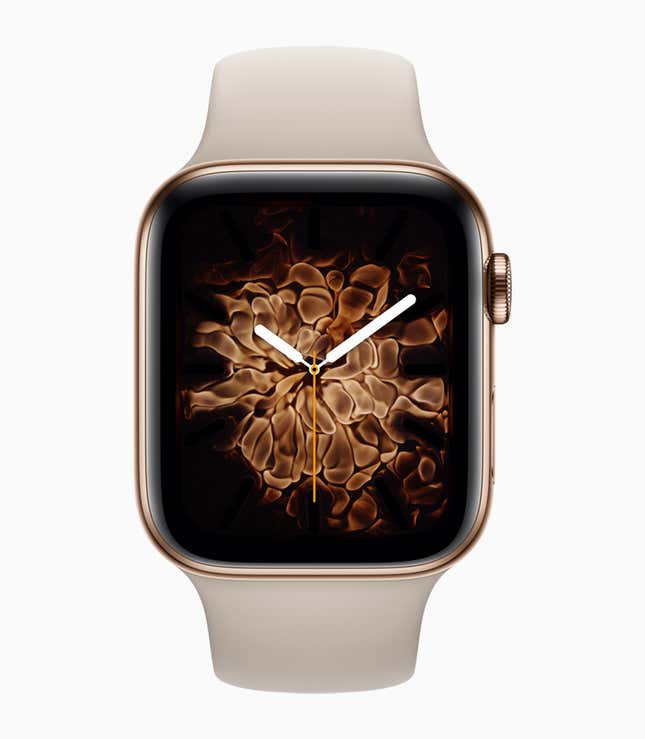 The watch has a very similar silhouette to the three previous generations (it's slightly more rounded on its edges), but Apple has managed to increase the screen size by 30%, make it brighter and louder, and maintain the same battery life as the Series 3. It also introduced some new informational watch faces (timers, daily temperature range, UV index, music tracking) that will likely be useful for the busy early-adopters who have already bought into the ecosystem, as well as a few that are just pretty to look at.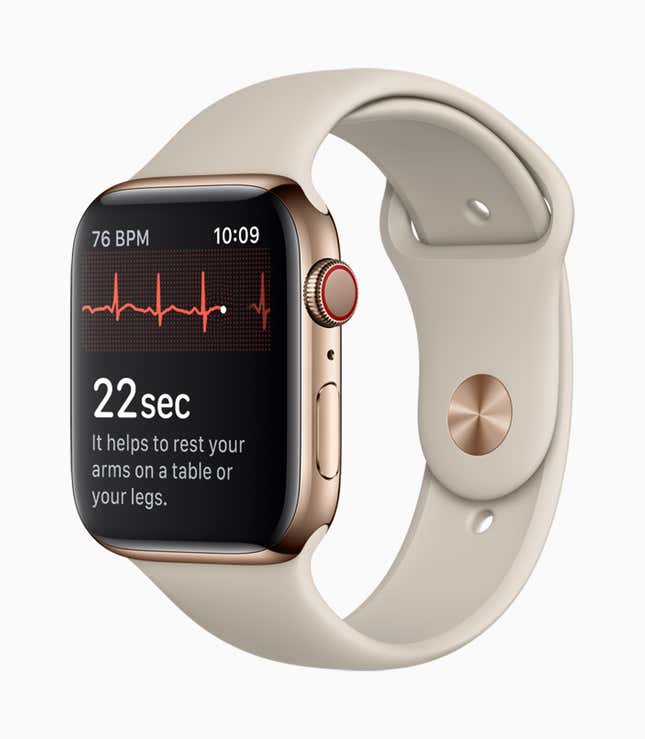 But the really impressive work that the Apple Watch team has done is on the health-monitoring side. It might not be everyone's cup of tea (myself included), but the heart-tracking technology it's introduced in recent years is a boon to athletes and those concerned about their heart health. The Series 4 takes things a lot further, becoming the first product of its kind to include a built-in electrocardiogram (ECG) monitor. Apple worked with the US Food and Drug Administration (FDA) to get the device approved for sale in the US, and is working to do so in other countries.
As my colleague Dave Gershgorn noted earlier, the new Apple Watch will know more about your heart health at any given moment than your doctor. The new sensing technology, paired with the existing heart-rate monitor, has the ability to detect if you have a too-fast or too-slow heart rate, and an irregular heartbeat like atrial fibrillation. The new device even has the ability to work out if you've fallen and need medical assistance, calling emergency services unless you tell it not to. (Companies like LifeAlert in the US have made this a business for years.)
Apple is positioning its Apple Watch not as a nice-to-have device, but one that could soon become a necessity for many across the world. Heart disease is responsible for one-fourth of all US deaths each year, and it's not that much of a stretch to see Apple—especially now that it has inroads with the FDA—build sensors to monitor glucose, oxygen, sleep, blood pressure, or anything else that needs to be measured. Perhaps soon the watch could replace the yearly physical exam.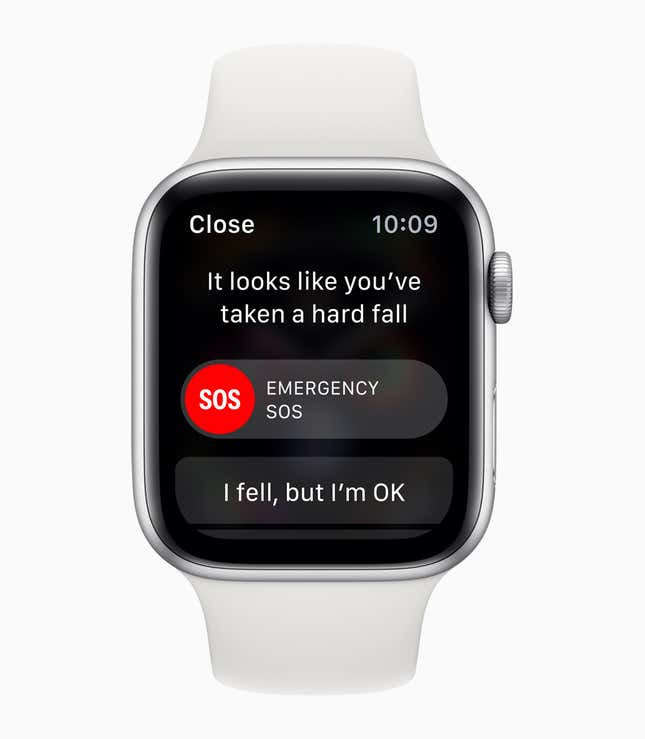 Apple is also working to build out non-health reasons for strapping on a watch. The new screen will make it easier for more people to read text on the device, and the company says the new watch has a 50% louder speaker, and a more powerful microphone so Siri can better hear what you ask of it.
While the iPhone is still king at Apple, its updates have long felt iterative and unsurprising. Couple that with other exciting products the company has released recently, like its AirPods wireless earbuds, and even its HomePod smart speaker, perhaps Apple is starting to find the possibilities beyond the smartphone. Or perhaps it's just biding time until it's ready to unveil something truly revolutionary.