Mobile game developer Zynga, most famous for its viral game Farmville, follow-up Farmville 2, and popular card game Texas Hold'Em Poker, is going to release its third-quarter earnings today (Oct 24). But we hardly need Zynga to reaffirm what everyone already knows: The company isn't doing so well.
When Zynga filed for its IPO in late 2011, it had roughly 230 million active users a month. In the ensuing year, that number soared to over 300 million. But since then, there's been nothing but bad news. Sales and revenues have slipped systematically, and no wonder. The 39 million daily active users Zynga reported last quarter are already fewer than the 50 million its competitor King has for its Candy Crush Saga game alone.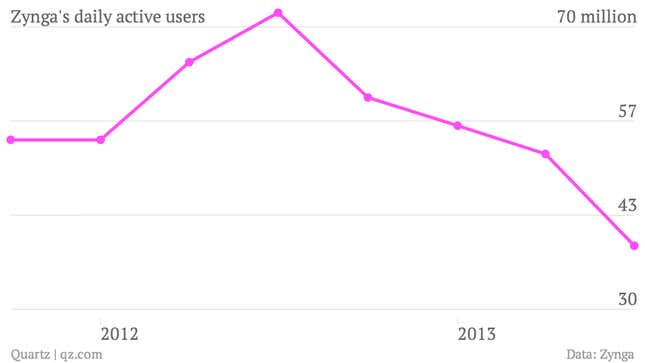 A look at Zynga's monthly active users tells a similar tale. Last quarter, for the first time over two years, Zynga logged fewer than 200 million monthly active users.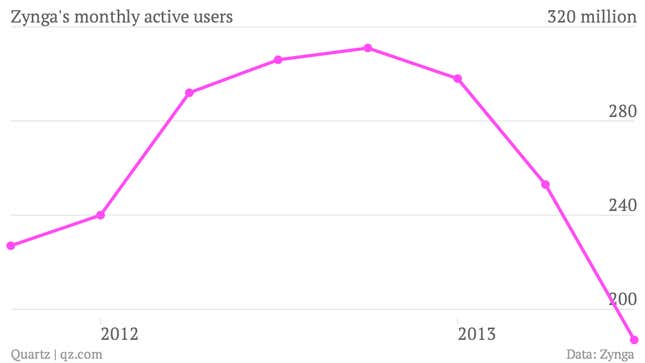 Moreover, the decline is accelerating. This past quarter, the user base dropped by 25% from the previous quarter. A similar drop this time around would put the company's monthly active users below 140 million, less than half what they were a year ago.
Considering the trend in its user base over the past 12 months, Zynga's share price has been remarkably buoyant. But it was down 2.6% yesterday ahead of today's earnings announcement, and it's had a few wild swings in recent months. Keep an eye on that stock chart.