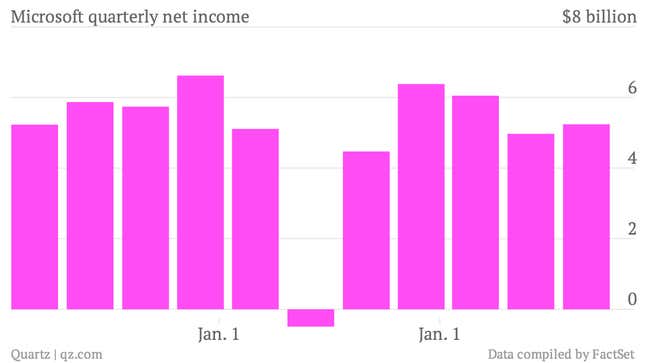 The numbers: Better than expected. Microsoft reported first-quarter earnings of $5.24 billion, up 17% from the same period last year. Revenue came in at $18.5 billion, well above expectations that hovered nearer to $17.8 billion. Microsoft shares are up sharply on the news.
The takeaway: Microsoft's "commercial revenue," which is what it calls its sales to large companies, grew 10% to $11.2 billion in the first quarter. That means companies are buying Microsoft's corporate software (Windows, Office Suite, etc.). Exchange and SharePoint specifically saw double-digit growth, according to the company. Its revenue from corporate services that it hosts in the cloud doubled.
What's interesting: Some people are actually buying Microsoft Surface tablets. Despite a series of price slashes meant to clear an excess of inventory, revenue for the Surface grew to $400 million this quarter. That's a ray of hope for a company looking to depend less on software sales and more on physical devices. Overall, Microsoft's consumer devices revenue grew 4% to $7.46 billion for the quarter, making it about 40% of the company's total. With the newest version of the Surface having just launched this week, and the much anticipated Xbox One gaming console set to launch next quarter, Microsoft is likely to shift the balance towards devices a bit more. "We are seeing lots of consumer excitement for Xbox One, Surface 2 and Surface Pro 2, and the full spectrum of Windows 8.1 and Windows Phone devices," CEO Steve Ballmer said in a statement.