Communist Party bigwigs in Henan province are giving a new meaning to the term "government pork." The party secretary and chief of a Henan town called Xuchang ran up a tab of more than 700,000 yuan ($115,000) at a local pig trotter restaurant over the course of three years, as Sinosphere's Chris Buckley recently wrote, before the restaurant's owner finally called in their debts. Struggling to support his family while ill and saddled in his own debts, the owner tacked up two giant red banners outside his restaurant outlining how much the town Party heads owed. Days later, the local government had settled the bill and the officials were suspended.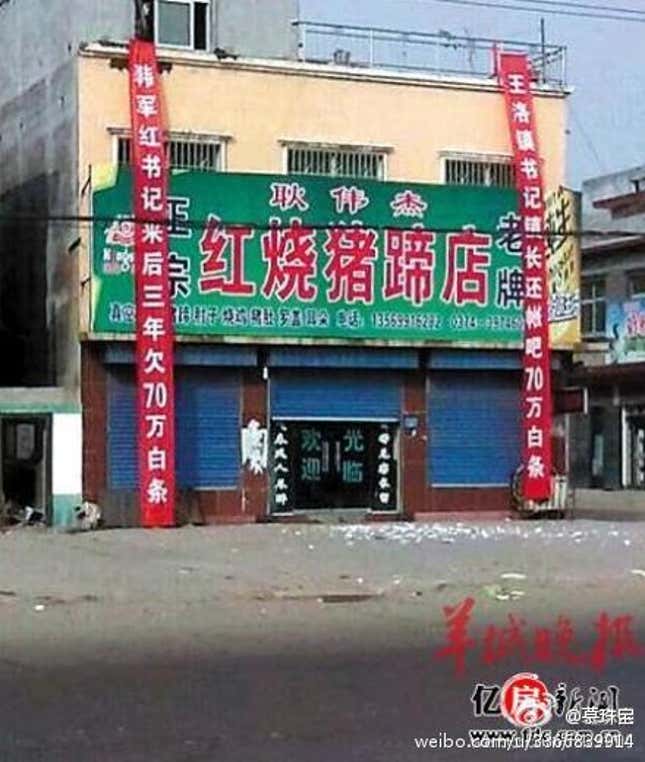 This hasn't been the only porcine-themed PR fiasco for the Party, which is struggling to shed its reputation for corruption and profligate spending. An official in Zhejiang province was recently sacked for accepting a piggyback ride from a villager intent on protecting the cadre's fancy shoes from water damage.
The pig trotter story, however, emerged at a particularly fragile moment in the Party's psyche, as it prepares to announce the findings of a nationwide audit of local government debt. Though it's pretty hard to imagine how two officials in rural Henan might rack up a bill averaging out to about 639 yuan ($105) in pig trotters a day, that kind of spending is crucial to a lowly Party official's advancement. It's also the sort of activity that has helped local governments rack up a rumored 14 trillion yuan (link in Chinese) in owed money.
The debts were incurred because the trotter restaurants was designated as a host for official "inspection tours," in which cadres fete higher-ups in town to check in on the town's performance. A Party official's career prospects depend largely on how he strengthens relations with more powerful officials. Showering them with gifts and stuffing them with local delicacies is routine. That wins them investment for things like infrastructure or property development that boosts their bosses' claims of economic performance.
But as China's economy has slowed, the wasteful spending that results from this system has plunged local governments deep into debt. Though that is much more due to fiscal excess than to extravagant eating, the latter has piqued the public's ire. The new Xi Jinping administration has seized on the issue as a way of burnishing its credibility with the public, launching an aggressive austerity campaign. Its reining in of needless investment, however, has been somewhat less vigilant.
It's good that local governments won't be spending taxpayer yuan on pig hoofs any more. But the fact that they racked up debts speaks to the larger fiscal problems China now faces. As a local party official told the Beijing News, up until 2011, the Party heads had paid their bills on time (link in Chinese). But more recently, as China's financial picture darkened, they opened their trotter tab, and started "going temporarily into debt" due to "difficulties with cash flow."