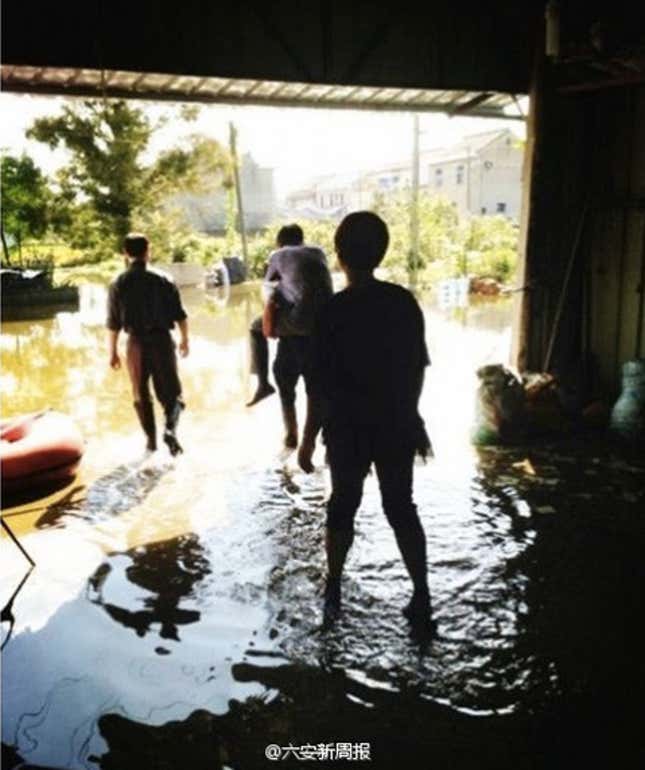 While visiting severely flooded areas of Yuyao, a city in Zhejiang province, an official from the city's township accepted a piggyback ride from a villager intent on protecting the official's fancy shoes. Unfortunately for the official, a photo of the moment went viral on Sina Weibo, the country's largest microblog. The official, director of a township-level construction office, was removed from his post today, reports Xinhua, China's state media.
The weird thing is that the official, whose surname is Wang, hadn't actually broken any rules on official comportment. His main sin seems simply to have been inviting ridicule from users of Chinese social media, a platform on which citizens often criticize the government for unethical behavior.
This strange story highlights the extreme lengths the Chinese government will go to to defend its public image. Some might argue its vigilance against anyone who tarnishes that image is more aggressive than its crusade against corruption.
Wang's isn't the only case. Last week, Ma Linxiang, an official in the village of Qingheying, was fired after media reports said the official's son had held a three-day wedding that cost about $260,000. The party's discipline inspection commission said that it didn't find any evidence that Ma had used government funds for the wedding. However, the celebration ran counter to the the party's strictures against extravagance. Last month, another official was fired after a video surfaced of him eating lobster, drinking high-end liquor and criticizing regular Chinese people for complaining too much.
At the same time, the government has been cracking down on people who are exposing actual corruption. Last week, a Chinese journalist who published details of possible corruption of high-ranking officials was arrested and charged with defamation. Activists who have called on officials to make their assets public have also been detained this year. The government has also been sealing off channels through which past incidents have surfaced. A recently announced law makes posting messages deemed "libelous" a crime punishable by up to three years in prison.