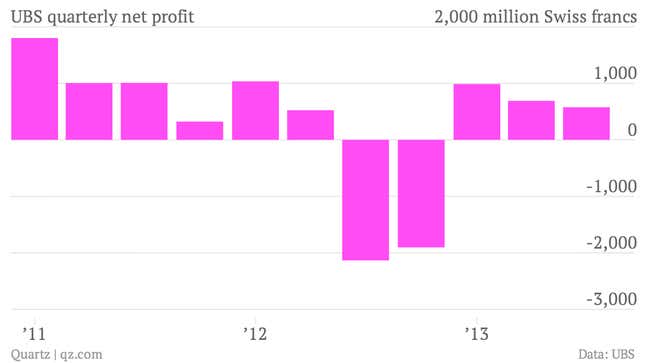 The numbers: A mixed bag. Swiss banking giant UBS generated a net profit of 577 million Swiss francs ($644 million) in the third quarter, which beat analyst expectations. Still, the bank's shares plunged 6% in early trading, thanks to what investors discovered elsewhere in its financial statements.
The takeaway: Switzerland's financial authorities are forcing UBS to boost its capital cushion to deal with "known or unknown litigation," the bank said, ominously. This unexpected "temporary add-on" surprised the markets—which now understandably expect the worst when it comes to banks and litigation—and drove the sell-off in UBS shares. The regulatory setback means the bank will delay its target return on equity of 15% by one year, to 2016. Its return on equity in the third quarter was a meager 4.9%.
What's interesting: By drastically cutting back its investment bank and relying more on its wealth-management business, UBS is avoiding the turmoil faced by the likes of Deutsche Bank and Credit Suisse, which both reported sharply lower trading volumes in the latest quarter. But it cannot escape the legal ramifications of alleged past misdeeds. The international probe into manipulation of foreign-exchange markets, announced earlier this month, is just the latest in a long line of scandals to ensnare the Swiss bank. The gory details of UBS's ongoing legal woes take up nine full pages in its latest earnings report (start on page 135 and keep reading).