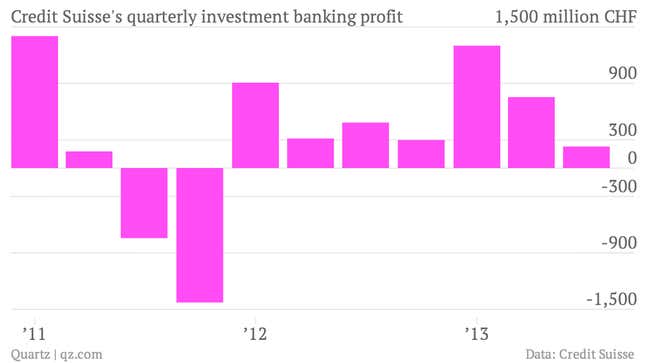 The numbers: Ugly. Credit Suisse reported a third-quarter net profit of 454 million Swiss francs ($510 million) when analysts were expecting something closer to 650 million. The bank's share price sank by around 3% on the news.
The takeaway: The group's investment banking business is in the doldrums, dragging down the entire company with it. Profits in the division fell by more than 50% year-over-year, driven by weak trading results. Credit Suisse announced a major overhaul of its fixed-income trading unit, hiving off the worst-performing bit into a "non-strategic unit" that will be wound down. This will cut some $7 billion in risk-weighted assets, and an as yet unspecified number of jobs.
What's interesting: Ultimately, Credit Suisse aims for investment banking to comprise only half of its $169 billion in risk-weighted assets, down from around 60% today. This will put more emphasis on its wealth management unit, which recorded a decent, if unspectacular, 9% rise in profits in the third quarter. Although investment banking is Credit Suisse's biggest pain point right now, the cloud hanging over its wealth management unit thanks to US Department of Justice's ongoing investigation into tax evasion threatens to do just as much damage in future quarters.