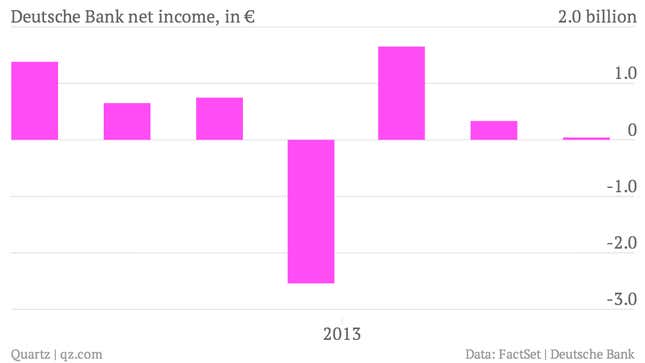 The numbers: Bad. Third quarter profit fell 94% to €41 million ($56 million), compared to the third quarter of 2012. Net revenues fell 10% to €7.7 billion. Revenue for sales and trading of bonds and other products dropped 48%. (Last month, Deutsch had warned that fixed income would be ugly.)
The takeaway: Legal issues are expensive. What killed the German megabank's profits was the fact that it had to set aside some €1.2 billion as part of a push to build a war chest to pay all the lawyers it will need to defend the bank on a number of fronts. The bank is currently being investigated over allegations that some of its employees may have manipulated crucial short-term money markets. And its headquarters were searched last year as part of a tax evasion probe that centered on carbon emission permits.
What's interesting: Despite the legal challenge the bank is set to face, Deutsche remains publicly dedicated to pushing forward as a European-style universal bank, which collects both deposits from consumers—through its Postbank retail unit—and participates in the high-flying world of international finance by putting that cash to work in the highly profitable business of managing IPOs, financing mergers, raising cash in the bond markets and trading in the unregulated insurance market known as derivatives. In fact, with its derivatives portfolio reportedly valued at more than $1 trillion, the bank—and potentially its counterparties—would almost certainly require government support if it were to get into trouble, which is why regulators have been pushing it to boost its capital cushion.