While passengers complain about baggage charges and pricey a la carte meals, airline companies could be cashing in to the tune of over $40 billion.
Global revenue from ancillary charges, which include everything from baggage fees and onboard retail to the sale of frequent-flier miles and trip insurance, have been rising steeply over the past three years, according to a report released by this week from CarTrawler and IdeaWorksCompany (pdf). In 2013, the report projects that airlines are primed to make $42.6 billion in optional services, marking a 20% jump from last year, and a near 90% spike since 2010.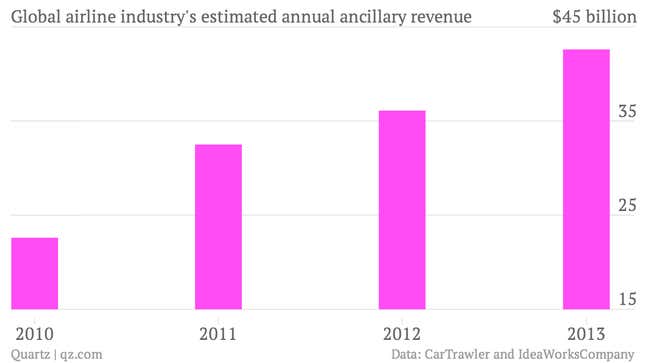 The global projections for over 170 airlines come from a June CarTrawler and IdeaWorksCompany report on revenue activity of 53 global airlines that report their ancillary revenue.
Since the slump of the early 2000s, airlines have moved away from the traditional, all-inclusive model toward cheaper tickets, which include little more than a guaranteed seat. With more people flying it follows that add-on revenue would continue to rise. And airlines are dangling more extras because customers are increasingly taking the bait.
"Today, airlines are not just competing with each other for a share of the passenger market, they're also competing for a cut of each passenger's total travel budget," CEO of CarTrawler Mike McGearty said in the report.
According to the report, US airlines will rake in roughly $14.3 billion this year, or one-third of "extras" sales from just seven airlines: Alaska Airlines, American, Delta, Hawaiian, Southwest, United, and US Airways. It's worth noting that 60% of this revenue for major US airlines comes from the sale of frequent flier miles to partners. Helping book travel and hotel reservations has also proved lucrative for many airlines; Hawaiian Airlines, for one, expects to double its revenue from such business over the next few years.

Airlines around the globe are relying more on ancillary revenue every year. This year, an estimated 9% of global airline sales will come from add-ons, nearly tripling the projected 3.2% measure from only 3 years ago, in 2010.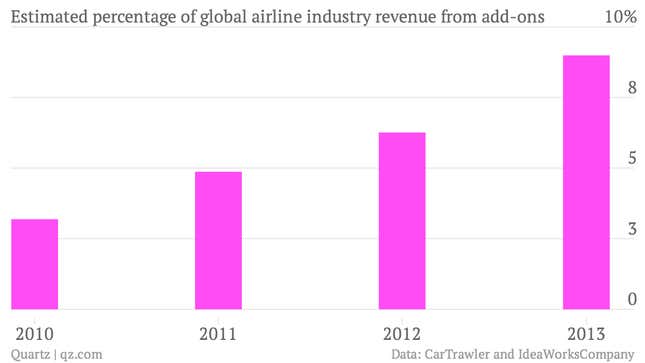 However, airlines are anything but equal in this regard. While traditional carriers, like Gulf Air and Singapore Airlines, still only earn an estimated 3% of their revenue from checked bags and a la carte meals, low-cost carriers and new, hybrid airlines earn upwards of 20% of their revenue by cashing in on these extras.

Despite rumblings from consumers, the current trend is unlikely to reverse itself.
The airline business remains an unforgiving one, and companies are still reporting razor-thin profit margins. And this is just the beginning; There will be many more compromises beyond leg-room and baggage check whether customers like it or not. Southwest Airlines, a long-time proponent of no baggage fees, appears to be caving in already. And no wonder—checked baggage fees brought in $3.5 billion for the industry last year alone.