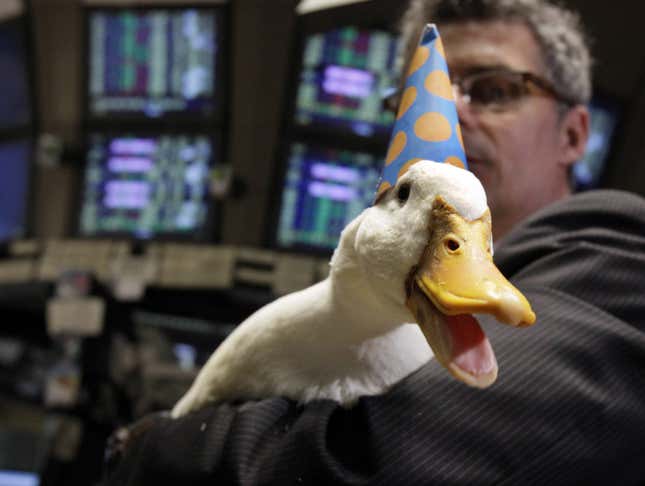 The numbers: Not great. Net earnings fell 31% to $702 million. Total revenue fell 14% to $5.9 billion. It boosted its dividend by 5.7%. The stock slipped a bit after hours.
The takeaway: It's tricky time for Aflac, which is heavily exposed to the economic uncertainty in Japan. While Americans might associate the Columbus, Georgia-based insurer with insurance offerings pushed in its ubiquitous duck advertisements, the US business is largely a sideshow for the company. Aflac derives roughly 75% of its profits from Japan, where its dominance in supplemental insurance products, and a concentration on a particularly bleak-sounding cancer insurance market, is its prime money maker. But because Aflac invests Japanese premiums—insurance companies are sort of like banks with a base of very long-term deposits—in Japanese capital markets, it is heavily exposed to the fluctuations of the Japanese currency.  And the currency has weakened sharply, as part of the economic policy push known as Abenomics. (The weak yen is supposed to help Japanese exports and, hopefully, put an end to Japan's decades-long battle with deflation.) 
What's interesting: A weaker yen means that all of the yen Aflac makes over in Japan translates into a much smaller pile of dollars than they used to. And that makes its earnings look worse. But while Aflac translates its yen results into dollars for the sake of its quarterly financial statement, it takes pains to point out that this is something of an accounting fiction. "Except for certain transactions that include the Aflac Japan dollar investment program, the company does not actually convert yen into dollars. As a result, Aflac views foreign currency as a financial reporting issue and not as an economic event for the company or its shareholders," the company said in its quarterly release. So-far shareholders seem to be accepting that rationale. Since the yen started weakening sharply in November 2012, Aflac shares are up more than 33%. And that's better than the S&P 500 as a whole over the same period.