Going to university in the US is not cheap, as we have covered before. On top of tuition, loans and living expenses, students are also stung by the cost of textbooks—a traditional cash cow for publishers, which take advantage of a captive audience to ratchet up prices.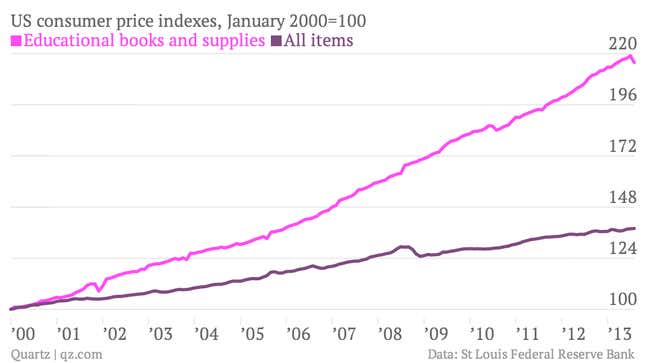 The world's largest educational publisher, London-based Pearson, reported today that a backlash against its bullishly priced textbooks is eating into profits. The publisher warned that the margins in its American education business—which accounts for 50% of group sales—will fall this year. "Lower freshman enrollments and bookstore purchasing have produced a weak trading environment for college textbook publishing," the company said.
Although fewer students mean fewer textbook sales in the short term, there are much bigger threats to the college textbook industry's fat margins in the long term. Put simply, buying new books at full price in the university bookstore is increasingly rare. Nearly 80% of stores now offer textbook rentals, up from less than 10% three years ago, according to the National Association of College Stores. One-third of students download course materials from sites of dubious legality, according to the Book Industry Study Group, which also reports that the share of students who simply scan and copy a shared textbook is also on the rise. Though it's a much more distant danger, digital textbook sales will likely squeeze big publishers' margins even more.
Beg, borrow or steal
And so the same dynamics roiling the music and film industries—streaming rentals, piracy—can be seen in the market for college textbooks. Ultimately, the ubiquity of tablet computers and e-readers makes it hard to imagine a future in which college students lug hefty hardbacks across campus as much as they do today. That's why, in terms of prices, we may have already passed "Peak Textbook," a professor recently told Fox Business.
In response to these trends, Pearson is in the midst of a £150 million ($241 million) restructuring exercise, orienting its education business more towards emerging markets and digital services. Other publishers will be forced to do the same. The business of selling Biostatistical Genetics and Genetic Epidemiology for $750 a pop just ain't what it used to be.