Europe's most successful recent tech startup officially launched on Oct. 7, 2008: That's when Spotify, following two years of development, opened up for business in its native Sweden and a handful of EU countries. Now it's the world's largest streaming-music subscription service, operating in 65 countries, with more than 80 million premium subscribers.
The enterprise founded by Martin Lorentzon and Daniel Ek is a public company valued at about $30 billion—double the valuation of Mobileye, the autonomous driving tech company acquired by Intel for about $15 billion, according to data from venture capital firm GP Bullhound.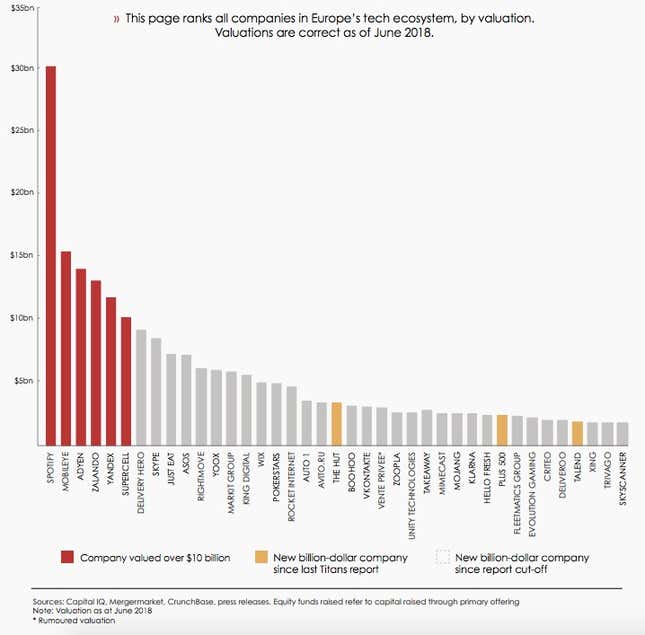 Europe has had successful tech companies in the past—SAP, the multinational software giant that started in 1972 in Germany, is worth about $150 billion. But the bloc's startup ecosystem has been dwarfed by the US and Asia, which have given rise to giants like Google and Alibaba. Companies like Spotify could help change that, especially if its veterans go on to start their own enterprises, and Spotify's valuation attracts more capital and attention to the sector.
In meantime, depending who you talk to, Spotify is either the music industry's savior or another harbinger of its downfall. As the company described the state of play in its public offering prospectus, the music business was in a death spiral before streaming began to get traction. The sector's revenue dwindled to $14.3 billion in 2014, compared with $23.8 billion in 1999, as internet-based music downloads took over. The trend reversed in 2015 when worldwide recorded music sales increased 3% from a year earlier. Revenue jumped 6% the next year, the most in two decades, according to Spotify filings.
Its freemium business model is meant to use its free tier as a conversion tool for getting people to sign up for subscriptions (which make more money and can go toward making labels and artists happy). The Consumer Technology Association estimates that US consumers will spend $6.6 billion on music streaming services alone in 2018. Spending on streaming services—audio as well as visual—will increase 35% to $19.5 billion, according to the company's projections.
But musicians aren't convinced Spotify's rise has been a complete success for artists. The likes of Taylor Swift and Thom Yorke have complained publicly about its payout rates for their work. Spotify's own success is also far from assured—its operating loss widened to €90 million ($103.8 million) in the quarter that ended June 30, from €79 million a year ago. And its biggest competitor is Apple Music, which is run by a company worth more than $1 trillion that doesn't need to make money from its music service (it makes plenty by selling iPhones). Spotify is a big company, but it remains to be seen whether it's big enough.
Additional reporting by Amy X. Wang.