This morning (Oct. 8), the US National Oceanic and Atmospheric Administration's hurricane center issued a warning to Florida: Tropical Storm Michael has quickly picked up momentum and has turned into a hurricane, currently moving north with sustained winds of 75 miles per hour—just above the threshold of 74 mph separating a storm from a hurricane. It is expected to make landfall in the Florida panhandle (the northwestern part of the state) on Wednesday.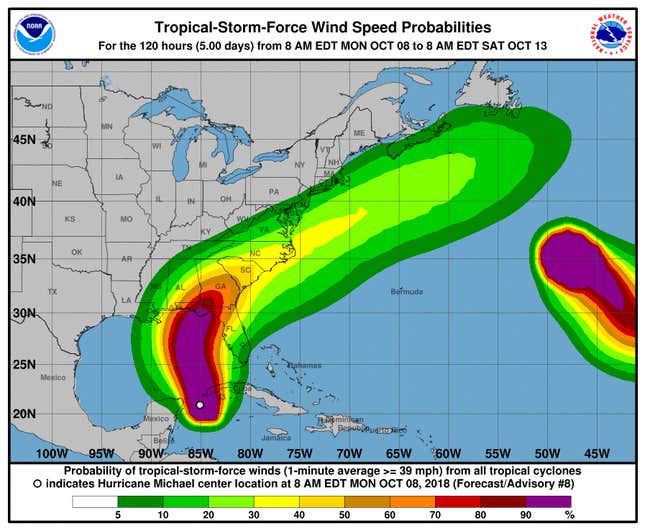 The tropical storm picked up enough speed to develop into a category one hurricane over the course of just a few hours, and is expected to become as a category-three hurricane, with wind speed of at least 111 miles per hour, by the time it hits Florida. After landfall, it is expected to move up the state through Wednesday, then lose speed on Thursday as it moves through Georgia, before dropping back to storm strength.
On a televised message, Florida governor Rick Scott called the storm "life-threatening and extremely dangerous." So far, officials haven't yet decided whether to order an evacuation of the areas most likely to be hit, though they have encouraged tourists to leave the areas around Panama City and Mexico Beach in Bay County as well as the coastal area around the Big Bend region of Florida. Tallahassee, and the areas that had been hit by Hurricane Hermine in 2016, have already started distributing sandbags. Shelters are open.
The majority of damage is expected to come not from the hurricane itself, but from storm surge, as was the case with Hurricane Florence, which hit the Carolinas only last month. The surge from Hurricane Michael is projected to be as high as eight to 12 feet, according to the current forecast.
Though the situation has escalated quickly—a state of emergency was declared for 26 counties, and at least 500 National Guard are ready to intervene—president Donald Trump has reassured Florida's citizens: "It looked a couple of days ago like it was not going to be much, and now it's looking like it could be a very big one," he said, "so we're prepared, and good luck."