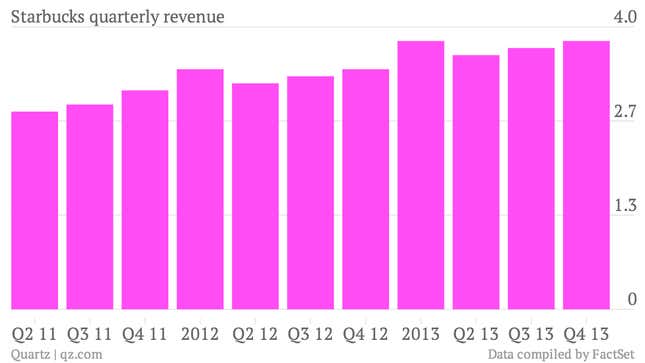 The numbers: Starbucks quarterly revenue rose 13% to $3.8 billion in its fourth fiscal quarter, which ended in September, compared to a year earlier. The US and China/Asia-Pacific regions posted especially strong revenue growth at 8% apiece, while the region including Europe, the Middle East and Africa saw sales rise by 2% from last year, the first increase in over a year. Operating income rose 29% to $668.9 million for the quarter, well above the $519.6 million registered for the same period a year ago. Shares are down slightly in after-market trading.
The takeaway: Apparently, Wall Street is already looking past what Starbucks is doing today. Record revenue, strong same-store sales growth and rapid expansion across the company's several regions wasn't enough to impress the markets. After rising slightly on Wednesday, Starbucks shares are down almost 3% in after-market trading. This probably has to do with the company's outlook for 2014; Starbucks is targeting sales growth of 10% for 2014, but analyst expectations were closer to 12%.
What's interesting: 2013 has been a great year for Starbucks. In fact, according to the company, this has been the best year in its 42-year history. "Today Starbucks announced incredible fourth quarter results in what has been a truly outstanding year," CFO Troy Alstead said in a statement. Indeed, the company's performance over the past four quarters has been very strong. The $3.8 billion in revenue Starbucks posted in both its first and fourth quarter are historical bests, and the company continues to post near-double digit growth in several regions, including North America and China/Asia Pacific.
The global coffee shop king has also promised to expand, and expand it has. So far this year, the company has opened over a thousand stores around the globe. In the fourth quarter alone, Starbucks opened 558 new stores, including its 1,000th store in both China and Japan. But it's also boosting same stores sales on better store traffic. Further validating Starbucks record year is how well its stock has done: it's up by a staggering 50% since last year.