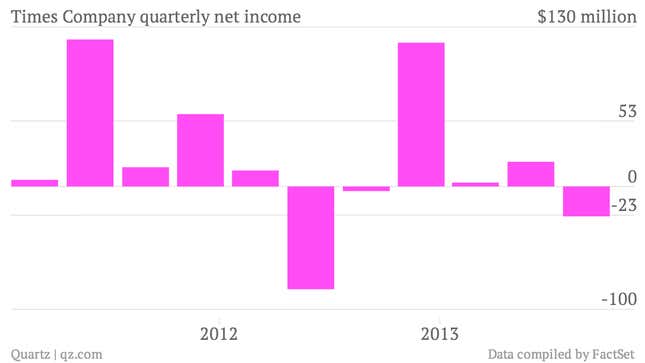 The numbers: The New York Times Co., which owns the New York Times, reported third quarter revenue of $361.7 million, up 1.8% from the same period last year.
The takeaway: The Times reported a net loss of $24.8 million for the quarter. The loss comes largely as a result of the sale of the New England Media Group earlier this year, which included The Boston Globe, Boston.com, marketing company Globe Direct and Telegram.com.
What's interesting: Digital subscribers are up, but digital advertising revenue fell over 3% from a year earlier in the third quarter. The drop in digital advertising revenue is especially disconcerting given that the company is growingly dependent on it as a source of income; revenue from digital advertising made up 24.2% of total revenue in the first nine months of 2013, up from 23.4 % in the first nine months of of last year.