Fifteen years ago, China started to work on an ambitious project that would eventually become the world's longest sea-crossing bridge ever built. Now that bridge, which connects the mainland to both of the country's special administrative regions, Hong Kong and Macau, is finally ready. After an inaugural ceremony in the mainland city of Zhuhai presided over by Chinese leader Xi Jinping on Tuesday (Oct. 23), with fireworks, the bridge will open to traffic at 9am on Wednesday.
The 55-kilometer (34.2 miles) span—the sea-crossing portion alone is shorter—is part of Beijing's efforts to knit Hong Kong, Macau, and the southern mainland into the so-called Greater Bay Area to rival San Francisco's Bay Area as a tech hub. The project follows the logic that China has been using for years to guide economic development—if you want to get rich, first build a road.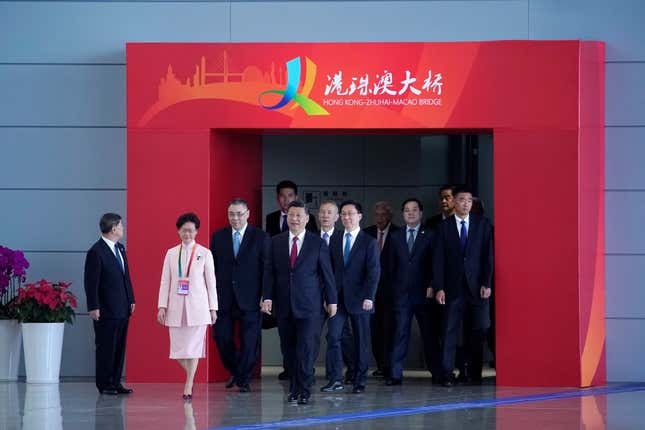 There's a political component to the project at well, which creates a visible, physical connection between the mainland and autonomous Hong Kong, which Beijing has been exerting more control over. "You can't see the existing transport connections—in a literal way. But this bridge is very visible… you can see it from the plane when you fly in to Hong Kong, and it's breathtaking," Hong Kong independent lawmaker Claudia Mo told CNN. "It links Hong Kong to China almost like an umbilical cord. You see it, and you know you're linked up to the motherland."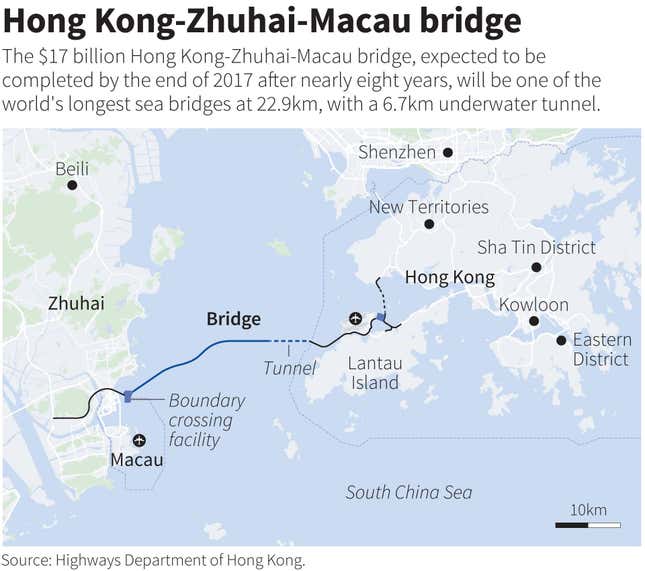 Hong Kong last month saw the opening of an $11 billion bullet train connecting the city to the mainland's high-speed railway network. The Hong Kong-Zhuhai-Macau bridge project is the next piece of the puzzle, and it cost some $20 billion, and saw years of delays.
The bridge structure includes two artificial islands that serve as entry and exit points for a 4-mile underwater sea tunnel west of the Hong Kong section of the bridge on Lantau Island. It's designed to last 120 years, withstand typhoons, and resist the impact of a magnitude-8 earthquake and a 300,000 metric ton vessel, according to the official in charge of the project's construction.
Since construction work started a decade ago, at least 10 workers have died and more than 600 have been injured. The construction project also appears to have had unwanted ecological impacts—marine animals like the Chinese white dolphin are now hard to find in the waters around Lantau.
How do you get to drive on the bridge?
The bridge will see traffic from intercity shuttle buses, trucks, and taxis as well as private cars—which will travel on the right, in keeping with mainland traffic rules (Hong Kong and Macau drive on the left). By 2030, nearly 30,000 vehicles will be using the bridge daily, according to estimates. But it's not going to be easy for individual drivers to get the permits to carry out that perfect road trip.
The quota for Hong Kong private cars that will be allowed to travel to the mainland is 10,000, more than triple the original limit set last year. While the cost of the license is only HK$800 (about $100), and they're valid for five years, including for driving on the mainland, they're reserved for businesses that have paid a certain level of taxes or individuals who have made a large level of charitable donations.
There's a separate 300 permit-quota for Hong Kong cars that want to drive to Macau multiple times, and Macau cars have a 600-permit quota to drive to Hong Kong.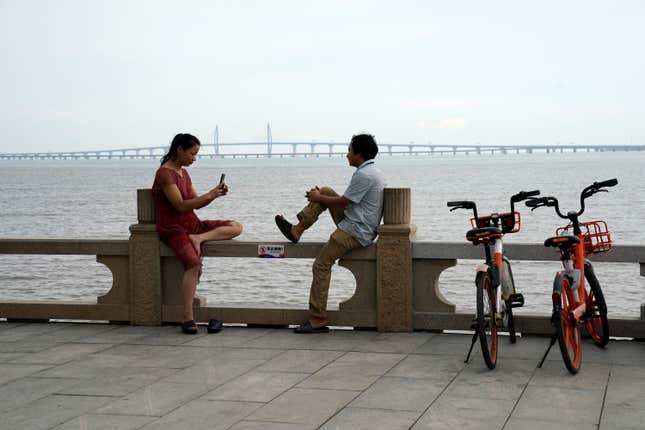 Macau authorities are also offering Hong Kong cars the ability to visit on one-time trips, through the Macau Port Park-and-Ride Scheme. But this requires the following steps:
Apply for closed road permit, Hong Kong
Apply for identification label, Macau
Apply for electronic temporary vehicle license and driving permit, Mainland China
Purchase insurance required by Macau and Mainland authorities
Book a parking space 12 hours ahead
How much time do you save?
Currently, travelers can already visit the three cities on ferries and buses.
The Hong Kong transport authority puts the present journey time between Zhuhai and Hong Kong at about four hours. The authority didn't say what commuting method it was using for reference, but most likely is referring to bus journey time. On the bridge, it will take 45 minutes to travel between Zhuhai and Hong Kong.
Meanwhile, traveling by ferry from Zhuhai's Jiuzhou port to Hong Kong International Airport currently takes about an hour, similar to ferry travel time between Hong Kong Island and Macau.
How much does it cost?
There's only one toll plaza, located in mainland waters, where drivers must pay in Chinese currency. A driver can pay with bank cards, or popular Chinese payment channels Alipay and WeChat Pay, based on real-time exchange rates.
It isn't confirmed yet how much bus tickets via the bridge between the cities will cost.
For comparison, one-way ferry service between Macau and Hong Kong Island starts at HK$170 ($21), while tickets to Hong Kong International Airport start at HK$246 ($31). The Zhuhai port-HKIA ferry starts at HK$260 ($33), while the current bus service costs HK$250 ($32) from Zhuhai to HKIA, and HK$140 ($18) from Zhuhai to Hong Kong Island.
In addition, there are other alternatives to come. The Shenzhen-Zhongshan bridge, which is expected to be completed in 2024, will cut travel time time between the two cities from two hours to 20 minutes. Zhuhai borders Zhongshan, and from Shenzhen, passengers can take the new bullet train to Kowloon, a 50-minute journey.