A meme taking over China's internet is showcasing the privileged lives of its rich millennials.
The photos and videos spreading on Chinese social network Weibo have a common motif: Young women purportedly tripping out of luxury vehicles, sprawled on the floor and surrounded by prized possessions that have spilled out of their expensive handbags. It's the Chinese version of the "falling stars challenge," which had already spread to Russia and India, fellow countries with stark wealth inequality, in recent months.
The meme has resulted in more than 1 million messages and 2.3 billion views for the hashtag #炫富假摔 (link in Chinese), translating to "show off fake fall," on Weibo, which has 431 million monthly active users.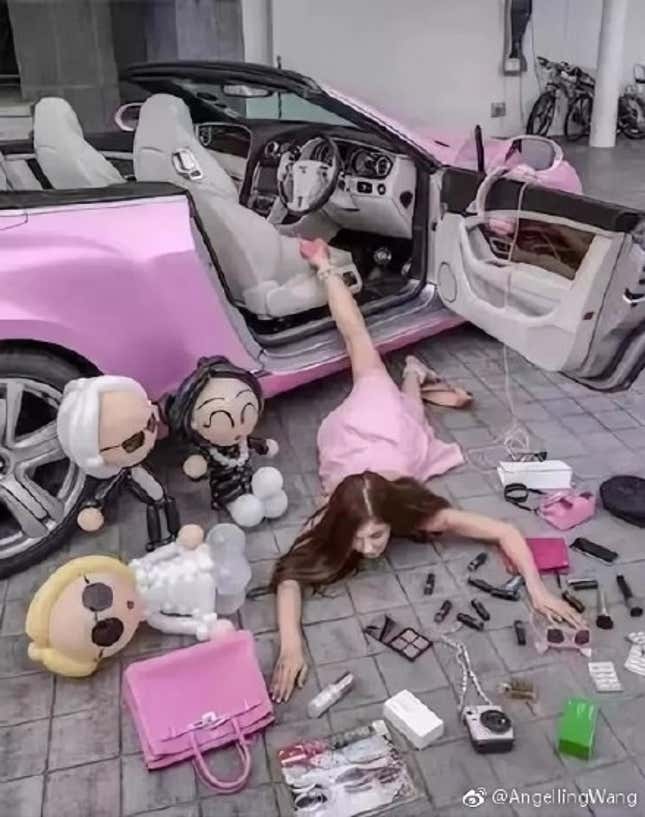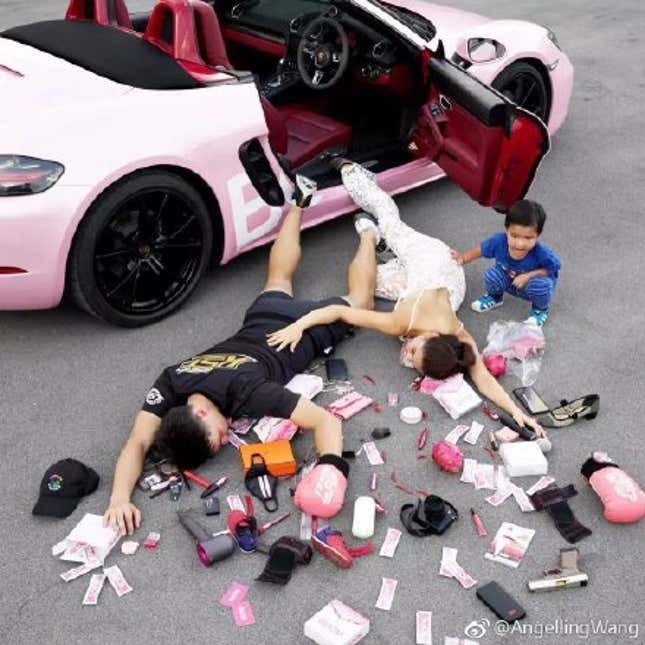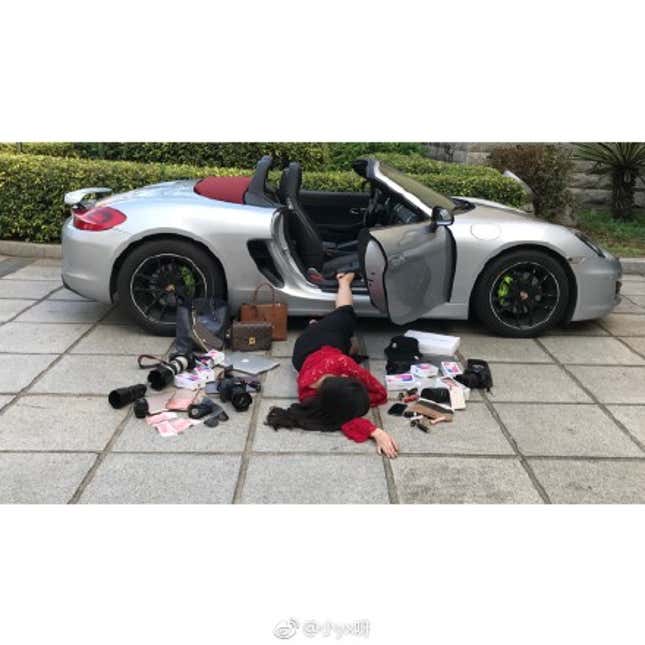 It might seem like a harmless, albeit pretentious, game, but Chinese authorities have not been so amused. Some of these "falling stars" have received citations for violating traffic laws to get their shot. Last week, two women were fined 150 yuan ($21) and 10 yuan ($1.44) for stopping their car on a crosswalk in the downtown area of Taizhou in southern Zhejiang province. One woman had livestreamed her friend falling out of the driver's seat, with her legs still in the air, and her Gucci bag, along with makeup from Yves St. Laurent and Dior, on the ground.
In another video (link in Chinese) shared over the weekend, a woman wearing sunglasses in China's northern city Xian appeared to have fallen out of the driver's seat of a parked white car, surrounded by her cosmetics, shopping bags, and a red-soled high-heel shoe. In front of the woman was a photographer instructing her to adjust her head as he snaps images with a large camera. Then a member of the park's cleaning staff walks (link in Chinese) by asking, "Hey miss, do you still want this stuff, or I will clean it up." Viewers later learned the man was asked to partake in the video, but his manager said he eventually quit because many people started interrupting his work to take his photo.
But the falling stars challenge hasn't only been for rich kids. Many ordinary people have also partaken, in part as a way to poke fun of the country's wealthy. Instead of expensive bags, though, they're surrounded by their work tools or books. Even Chinese state-media outlet People's Daily has found amusement in the falling stars challenge, sharing some images of parody versions, such as those from firefighters, students, and soldiers.
"They are 'rich' because of their contributions," it said in a Weibo post (link in Chinese). "They are always hardworking. It's the greatest fortune of society if everyone excels at what they do."