The good news is that global coffee prices are pretty low right now. The bad news is that it means very little for the cost of your morning latte.
Arabica coffee, which is preferred for its quality over robusta, has been getting cheaper and cheaper. Since we reported on the prices hitting three-year lows earlier this year, arabica coffee futures—an indicator of coffee bean prices—have only tumbled further. As of Tuesday (Nov. 5) arabica coffee futures on IntercontinentalExchange, a commodities trading market, are trading at their lowest in almost five years.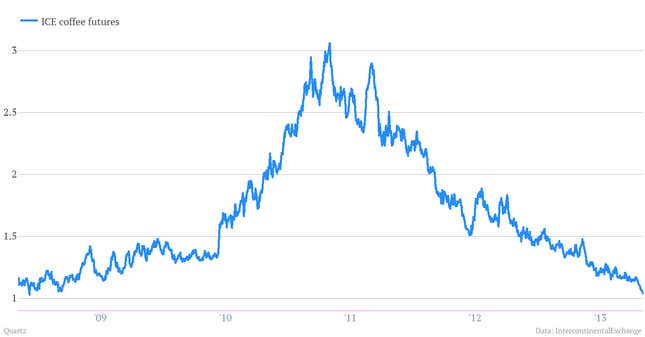 Much of the coffee's falling prices comes as a direct result of goings-on in Brazil, which is both the world's largest producer and exporter of arabica. This year has proved to be a particularly good one for the Brazilian crop, thanks in large part to this season's unusually wet weather, and expectations are high for next season's conditions, too. But its also been a lucrative harvest for Colombian coffee growers, who expect to reap nearly 11 million coffee bags, or almost 1.5 billion pounds (680 million kg) of coffee this season.
But while falling global coffee prices have reduced the price of bagged beans in stores, the price of a mug at many coffee houses has crept up. Starbucks, for instance, has announced a series of price hikes, most recently in June.
The reason? Simply that coffee beans make up only a small part of the cost of an over-the-counter cup of coffee. Not only does a cafe have to pay for labor, premises and other running costs; the price of milk can affect the price of a latte, and the cup your coffee is served in can cost more than the beans used to make it.
Still, Starbucks felt the need to acknowledge falling coffee prices after its most recent price hike. "Coffee commodity costs historically comprise less than 10 percent of our overall store operating and occupancy expenses," the company told Bloomberg. "The cost of doing business is going up, from wages to milk to energy, so our prices have to increase slightly."
So if you're looking to ride the recent fall in coffee prices, brew the beans yourself.