Millions of fans will fly to Brazil next summer to watch the world duke it out on the soccer pitch, but which country's loyal supporters will be the most abundant?
Soccer governing body FIFA released numbers from the first of two drawings today, Nov. 5. (World Cup tickets are doled out in two rounds, each of which is decided by lottery, along with a third ticket-buying period on a first-come, first-served basis.) The top recipient nations are rather telling.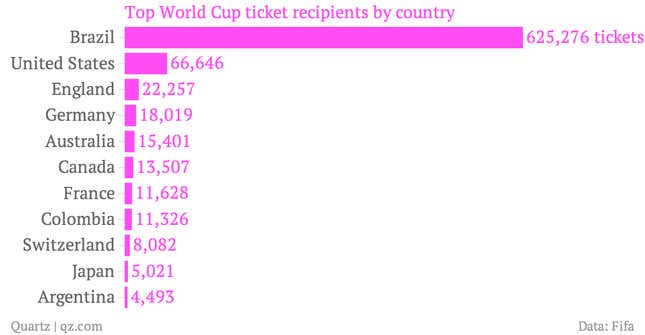 Brazil is far and away the biggest recipient, but that's no surprise—the host country is always offered the vast majority of World Cup tickets. Nor is it astonishing that the US, with its big population, comes next. But a closer look at the top ten recipients, broken down into tickets per capita, tells a more interesting tale.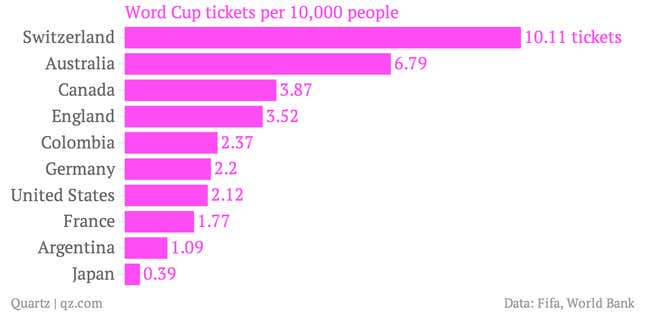 The Swiss appear to be among the world's most enthusiastic fans, or at least the ones with the most spare change. Switzerland gobbled up many more tickets per capita than any other country. Only Australia comes anywhere near.
There are, of course, plenty of factors at play here. Colombia and Argentina have much lower GDP per capita than any of the other top ten, but they're closer to Brazil. Switzerland, by contrast, has one of the wealthiest populations on the list. On the other hand, the success of a country's international soccer team doesn't appear to play much of a role. Despite ranking third among World Cup ticket buyers per head, Canada's soccer team isn't even in the world's top 100.
The next round of World Cup ticket sales begins on November 11 and runs through November 28. Over 200,000 tickets will be doled out—that's the first-come, first-served round. Thereafter, fans can enter the second and final lottery draw, which kicks off on December 8 and decides the fate of the final two million tickets.