At least half a dozen explosions outside a provincial Communist Party headquarters killed one person and injured at least eight  on Wednesday in Shanxi, a northern province of China, according to state media reports.Ball bearings were scattered at the scene, (link in Chinese) suggesting the explosions were the result of improvised explosive devices. That bombing is the second terrorist incident of terrorism in China in less than 10 days, after a car plowed into a group of people in Beijing's Tiananmen Square and burst into flames, killing five and injuring 38.
The attacks come at a particularly sensitive moment for China—the Communist Party's top leaders are set to meet in Beijing on Nov. 9 for a three-day session to plan the country's economic and political direction for the next decade.
While terrorism in China does not get the same international attention as pollution, economic growth or other development-related problems, the country has experienced a steady stream of terrorist incidents and violent riots in recent years, totaling nearly 30 incidents in the past decade.
They have often taken place in and around the Muslim-dominated western region of Xinjiang, which is tightly controlled by Chinese security forces, but also in major cities on China's eastern seaboard. Some incidents, like the suicidal man who blew up a bus this June, killing 47, have had nothing to do with ethnic tension. Still, as Quartz and others have reported, increased repression of the Uighurs in Xinjiang makes other parts of China a more attractive target for terrorist attacks.
China also saw a spike in what the government defined as terrorism incidents in the run-up to the 2008 Beijing Olympics, as groups including the Uighurs tried to get international attention for their complaints.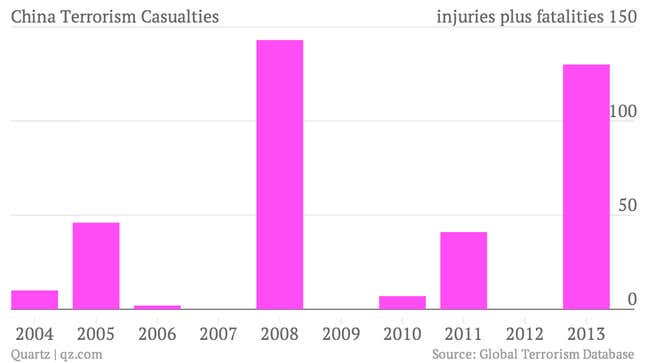 Leo Tian contributed reporting.