Just a few weeks after unveiling its latest iPhones and Apple Watch, Apple reconvened members of the press in Brooklyn's 110-year-old Howard Gilman Opera House today (Oct. 30) to show off a few more gadgets.
Here's a quick rundown on everything Apple announced:
A new iPad Pro
Apple completely redesigned the iPad Pro, thinning down the borders between the display and the edges of the device. It's removed the home button to help save space, integrating its FaceID facial scanning technology to unlock the device, and pay for things with Apple Pay.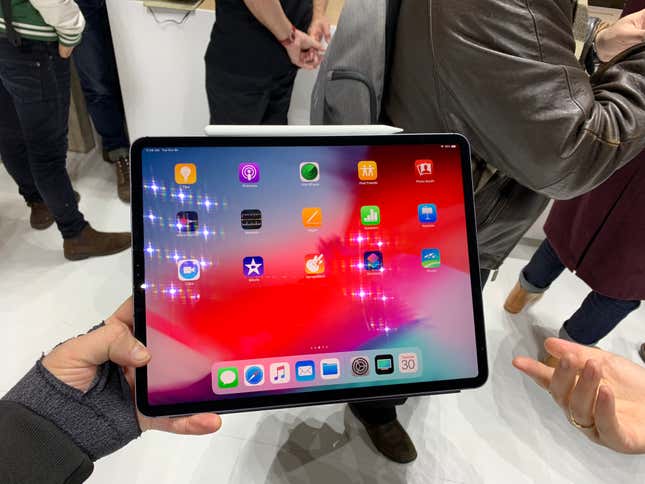 The tablet is roughly 15% thinner and takes up 25% less volume than the previous model. It still comes in two sizes, which now have 11-inch and 12.9-inch displays—the larger of which has roughly the same writing space as an 8-by-11-inch piece of paper.
The new iPad is 90% faster than the previous generation, according to Apple, running off a powerful A12X processor, a supersized version of the chips in its latest iPhone Xs phones. Apple showed off two impressive demonstrations of what the iPad can do, including a demo of the new NBA 2K19 videogame, and editing a photo on a full version of Photoshop.
The iPad Pro also ditches the Apple-designed Lightning connector that every iOS device since 2012 has used in favor of USB-C. While this may mean that all the cables you've amassed over the last few years are useless, the new cable means the iPad Pro can power external monitors, connect to powerful devices like DSLR cameras, and even charge other devices, like an iPhone.
Apple also redesigned its Apple Pencil stylus. Unlike the original model, which you had to stick into the iPad's Lightning port to charge, leaving it hanging awkwardly out of the device, the new stylus connects magnetically to the top of the tablet, and charges wirelessly. It also features a touch-sensitive area that can be set to perform different tasks depending on the app you're in. There's also a revamped Smart Keyboard case that connects to the iPad through a series of magnets.
The new iPad Pro starts at $799 for the smaller model, and $999 for the larger. They're available to pre-order starting today, and will be in stores from Nov. 7.
A new MacBook Air
For the first time in years, Apple revamped what CEO Tim Cook called the "most beloved notebook," the MacBook Air. It now features a 13.3-inch Retina HD display that's 50% wider than the screen on the older MacBook Air.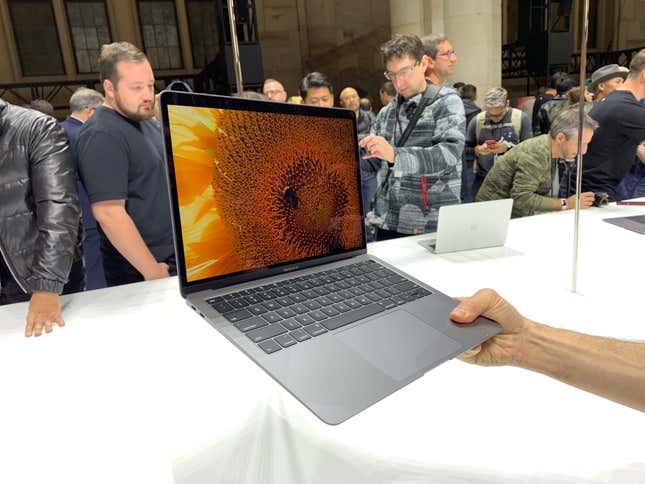 The laptop also has a revamped keyboard and trackpad that look far more like those found on Apple's MacBook and MacBook Pros. It includes a TouchID fingerprint sensor in the power button, which you can use to unlock the computer or pay for things through Apple Pay.
Like Apple's other new laptops, the new Air only features USB-C ports, which means you're going to need some adapters to run your older accessories through the computer. Apple said the device is 10% thinner and takes up 17% less volume than the previous version of the Air.
The Air can support up to a 1.5 TB hard drive and 16 GB of memory. Apple said each new MacBook Air is made of 100% recycled aluminum, thanks to breakthroughs in metallurgy it's researched.
The new Air starts at $1,199, a 20% jump over the $999 price the older generation started at. It will be available for pre-order from today and ships starting Nov. 7.
A new Mac Mini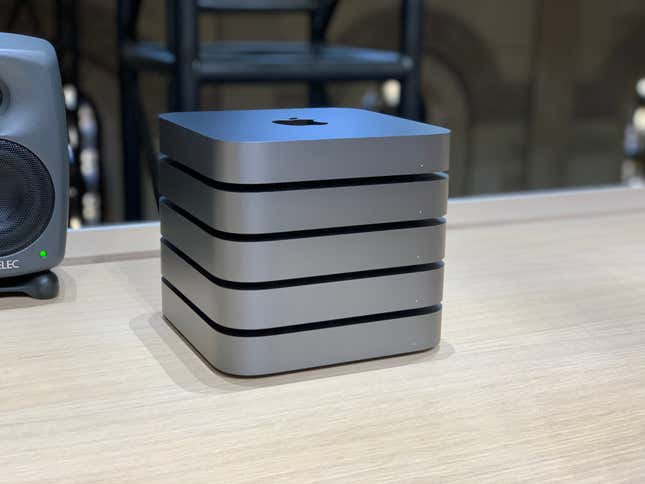 Apple revamped its long-forgotten small desktop computer, the Mac Mini. A favorite of people looking for a computer to mount behind screens or integrate into audio-visual setups, the Mac Mini hasn't been updated in over four years. The new model comes in grey, and features a host of internal upgrades. It can handle up to 64 GB of memory, and unlike all its laptops, has a ton of ports, including Ethernet, USB-C and USB-A, and even a headphone jack.
The diminutive desktop starts at $799, and will available for pre-order today, shipping on Nov. 7. Worth noting: the new Mac Mini is about $200 more than the old model, and you'll still need to pick up your own keyboard, mouse, and display.
iOS 12.1
Cook returned to the stage to briefly mention that iOS 12.1, its latest mobile operating system, was available from today. It brings Group FaceTime, dual SIM support, and 70 new emojis, among other updates.
A few things missing
While many of the things that had been expected at last month's event were unveiled today, there were still a few products that didn't make the cut. Cook mentioned Apple's smallest tablet, the iPad Mini, which hasn't been updated in a year and a half, but didn't indicate that it would be receiving any updates.
Also absent were any updates to Apple's AirPods wireless earbuds, or AirPower, the wireless inductive charging pad it announced in September 2017. AirPower was supposed to be available this year, Apple said at the time, but with the year almost over and no mention at today's event, it doesn't seem likely that the pad will be released in 2018 after all.