Shares of the world's largest retailer, Wal-Mart, are going nuts. Since catching fire in the middle of May, after posting strong earnings, the stock is up more than 27%. It hit an all-time high Oct. 10, closing at $75.42.
Why?
Some might think the price-conscious retailer's strength is a bad signal for the US economy, suggesting that Americans are moving to lower price points because of tight budgets. Such reasoning led many to expect that Wal-Mart would be a great bet during the great recession. Instead, the stock underperformed woefully, in part, because many American consumers were so strapped for cash that they turned to even cheaper retailers such as Dollar General and Dollar Tree. Here's a look at how Wal-Mart (blue) and Dollar Tree (yellow) performed from the end of 2008 to the end of 2011, in percentage terms: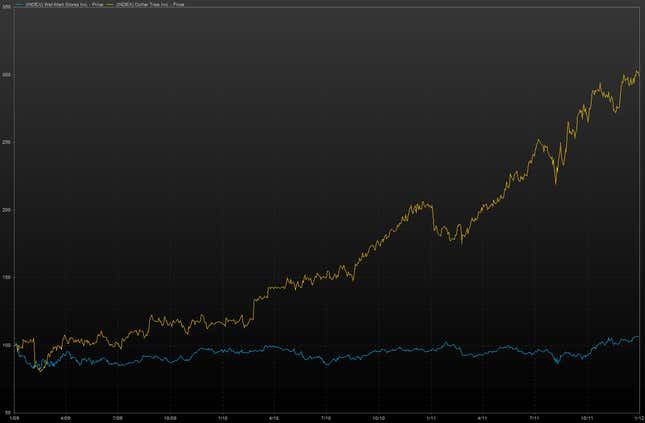 So what's going on now? It seems like Wal-Mart's surge is yet another sign of US resilience at the moment, especially the US domestic economy, which is benefiting from what pretty much everyone says is a real turn in the housing market. In fact, Wal-Mart's recent rise looks (yellow) looks an awful lot like the upturns we've seen in other housing related entities such as Home Depot (purple) and the S&P 500 homebuilders index (blue). Here's a look at their performance, along with Dollar Tree (green) for good measure, since mid-May, when Wal-Mart started taking off: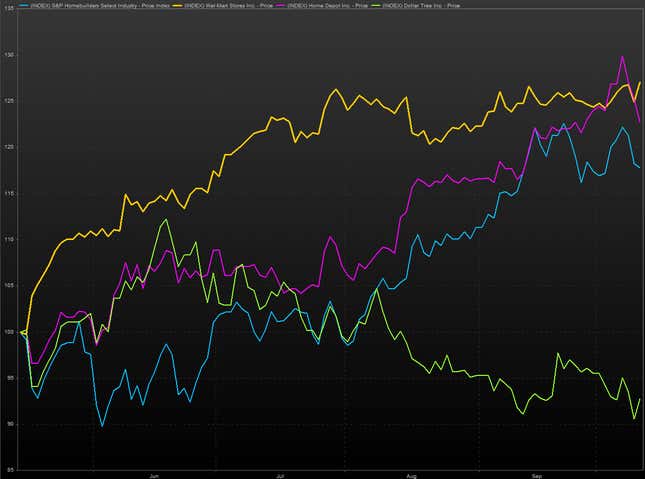 In short, investors beware. You underestimate the US economy at your own risk. Of course, it remains to be seen whether the US economy can keep moving with all the negative headwinds blowing in from the China slowdown and European crisis.