The Cheese Board Collective is one of the most important and unusual bakeries in the history of American cuisine.
It opened as a privately owned small cheese store in Berkeley, California in 1967. The shop is often credited with popularizing the baguette in the US and is owned by its workers. Today, there are about 60 worker-owners of the bakery, and the neighboring pizza shop, who are paid the same wage, no matter how long they've been working there. Their estimated annual revenue is about $9 million. And customers love what they produce. In 2016, Cheese Board was ranked number-two in places to eat in the US—not just pizza places, but all restaurants.
Right across the street from the Cheese Board is Chez Panisse, one of the most famous restaurants in the US, which opened in 1971. This is no coincidence. Alice Waters, a celebrity chef who owns the restaurant and one of the central figures in the farm-to-table movement, placed her restaurant nearby the Cheese Board so she could be "among friends" and source ingredients from the store.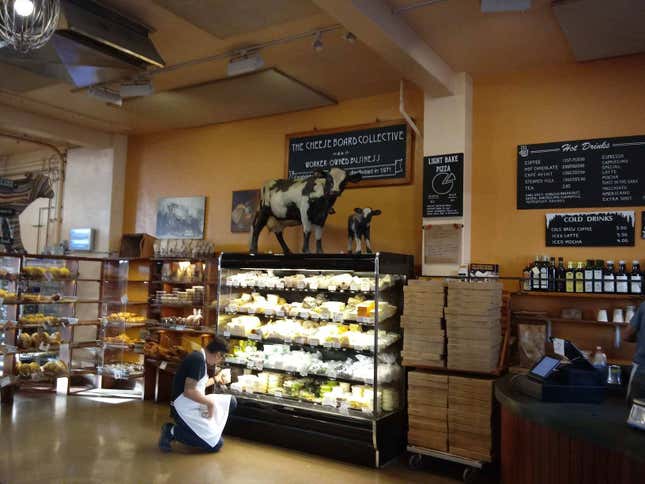 We spoke with Cathy Goldsmith, the community liaison, who has been a worker-owner at the Cheese Board for 24 years. She also makes dough, sells cheese, and washes the toilets. She reveals how technology can impact even the least hierarchical businesses. Google, Yelp, and Apple are all hugely important to the Cheese Board's success, and she thinks Uber and Lyft have helped their elderly customers get to the store. Goldsmith is even optimistic about the future of bitcoin, though she doesn't think it will be a common way to pay for cheese in her lifetime.
The interview has been lightly edited for length and clarity.
In terms of technology, what's the big thing you know today that you wished you knew five years ago?
This was a really tough question. Technology is like a creep. I can't even remember what it was like five years ago.
Which tech giant has had the biggest impact on your business?
A number of them have had a big impact, but maybe Apple is number one. We have used Apple products since we got computers. We use the iPad and Apple mail, so we actually interface with Apple every day.
Yelp has also been big for us. A couple years ago we were the second-best place to eat in the country. We don't advertise, so this is huge. There is just this subterranean support we get from our community, which helps us a lot. We are very lucky—if we were opening a business now, I don't know how we would get the attention.
I would also say Google is important because of people finding us from search. We have never played the Google [optimization] game, but we are pretty high up in their search engine. One thing that's problematic with Google is that it's difficult to change the information they have on us. For instance, every year we close a week after New Year's day and a week in August. Customers that don't know about this have told Google that we are out of business. Also, we have two addresses, 1504 and 1512, and they could not seem to put 1504 on to their map. Now, we have our own administrative account to correct things like this. Maybe this stuff is easier now that Google has grown up, but it was frustrating.
What technology or tech service, that is not a giant company like Google or Apple, do you find is most useful in running your business?
A couple of years ago, we started selling gift cards online with a company called Card Marketing Services. They are fantastic.
It used to be that around Christmas, we constantly had to stop what we were doing and answer the phone for gift card customers. Now we work with them, and though it's expensive to sell cards online rather than directly, it's worth it not to have spend all the administrative time.
From a technology standpoint, what can't you do, that you think you should be able to?
We wish it was easier to customize our POS [point-of-sale] system. We have someone who is really good with tech and can do a lot of the programming, so we were able to figure out lots of workarounds. But unless you are a huge company, it is hard to get what you want. We might put scan codes on goods to make things easier.
Has technology changed anything about how you manage your company's money in last five years?
We no longer take checks. The bank doesn't like it, and very few people want to use them.
Also, so many more people pay with credit cards now. Food businesses have historically been cash based, but I think we are 50% credit cards at least now. The speed of exchange with a credit card is quicker, so that's actually good.
What app on your phone do you find most useful for work?
Personally, it's the Apple mail app, because I read the email as the community liaison. I can read our mail anywhere anytime.
We are starting with Slack, but we are not really sure how it's going to work for us. We have a lot of committees, and so we are trying to think of how to do it. I hear people either love it or hate it, so we'll see. You'd be surprised though. There are some people here who can't really use a computer.
What's the newest competitive threat?
Trader Joe's and Costco sell stuff so cheaply. We have low prices, but not like those two places. We are supported by the loyalty of our community, but it is hard to compete.
We are part of the Arizmendi Association of Cooperatives, and there is a lot of talk of buying products we use together with others in the coop to bring down costs.
Do you think the availability of self-driving cars might change your business?
I think driverless cars are a great idea, but I don't see it as a bonus for us. For our customers that are seniors, Uber and Lyft is better because there is somebody to help them get in and out of the car.
Can you imagine using bitcoin or incorporating the blockchain in your business?
We haven't had anyone ask to pay with bitcoin yet, but I absolutely can imagine it. I think there are always going to be new forms of tender. Whether it's bartering a potato for a head of lettuce or gold coins for a loaf of bread. Money has no [inherent] value and bitcoin has no [inherent] value. So why couldn't you imagine us assigning value to something like bitcoin? But I don't think it will be in my lifetime because it's too insecure.
Personally, I would like to buy one bitcoin to see what it does so maybe I could understand it better.